Suicide gun to be tested in Hollywood publicist's slaying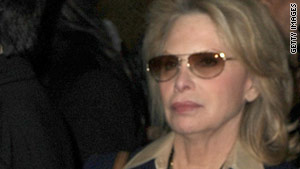 Hollywood publicist Ronni Chasen was found dead in her car November 16 on her way home from a movie premiere.
STORY HIGHLIGHTS
The Los Angeles County Sheriff's experts will test the suicide gun
Harold Martin Smith shot himself in the head as Beverly Hills detectives approached
Detectives wanted to talk to Smith because of a tip from "America's Most Wanted"
Los Angeles (CNN) -- The handgun used by a "person of interest" in the case of murdered Hollywood publicist Ronni Chasen has been sent to the Los Angeles Sheriff's ballistics lab to determine whether it was used to kill Chasen, Beverly Hill Police said Tuesday.
The news seems to contradict earlier reports that investigators had already determined Harold Martin Smith's gun did not match the weapon used in last month's Beverly Hills, California, shooting.
Chasen, 64, was shot several times in the chest while driving in her car through a residential area of Beverly Hills after leaving a Hollywood movie premiere party.
A Beverly Hills police spokesman dismissed a media report published Monday that said a woman reported being threatened with a gun by a motorist in the same neighborhood days earlier.
Smith, 43, pulled a handgun and shot himself in the head as Beverly Hills detectives approached to question him at Hollywood's Harvey Apartments last Wednesday.
Investigators were following up on a tip passed on by "America's Most Wanted" television show, police said.
FOLLOW THIS TOPIC