Parents issue new plea for missing Oregon boy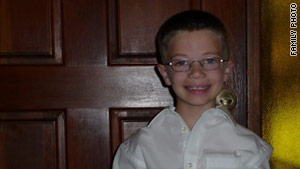 The parents of Kyron Horman, who was last seen June 4, are reminding the public that help is needed in finding their son.
STORY HIGHLIGHTS
More than $1 million has been spent on the effort to find Kyron Horman so far
The 8-year-old has been missing since June
No arrests have been made in his disappearance
For more on this story, see CNN affiliate KGW.com
(CNN) -- The biological parents of an Oregon boy missing for six months have issued a new appeal to help bring the 8-year-old home.
Kyron Horman was last seen June 4. His stepmother, Terri Horman, said she dropped him off at school that morning.
In divorce filings, Kaine Horman said he believes his estranged wife, Terri Horman, "is involved" in the boy's disappearance. The stepmother has been the subject of intense scrutiny for several months. Court documents also allege Terri Horman attempted to hire a man to kill her husband.
No arrests have been made in Kyron's disappearance.
"We feel the investigation continues to move forward in a positive manner and is progressing toward finding out what happened to Kyron," his biological parents, Kaine Horman and Desiree Young, told CNN affiliate KGW in Portland. "Briefings continue with law enforcement on a regular basis and we remain confident in the commitment of law enforcement and in the mission to find our son."

Hundreds search for Kyron Horman

Cake not cut at birthday for missing boy
More than $1 million had been spent on the effort to find Kyron, Multnomah County Sheriff Dan Staton said in September.
"We have taken critical hits in all of the units throughout the agency to support this investigation," he said at the time.
The boy's parents urged the public not to forget their son.
"We all still remain focused and relentless in the pursuit of bringing Kyron home," they told KGW. "We would like to stress to everyone that Kyron has not yet been found and we need everyone's help. We still need everyone willing to pass out fliers and/or post them in high visibility areas. Kyron still needs all of us."
Kyron's parents marked his 8th birthday in September by releasing red balloons outside a church in Medford, Oregon.
The boy's disappearance prompted his school -- Skyline Elementary -- to add additional security measures to protect the children and staff. In a letter to parents, Principal Ben Keefer said video cameras would be installed at the school.
"These cameras will show external views of the building as well as the main hallway," he wrote.
Security procedures will be reviewed to ensure they are effective, he added.
FOLLOW THIS TOPIC