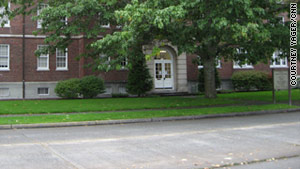 Wednesday's hearing will be held at Joint Base Lewis-McChord in Washington.
STORY HIGHLIGHTS
NEW: Staff Sgt. Robert Stevens is sentenced to nine months
He struck a deal with prosecutors and pleaded guilty to some charges
He will testify against other soldiers charged in the case
He pleaded guilty to 4 charges but not conspiracy to commit aggravated assault
Joint Base Lewis-Mcchord, Washington (CNN) -- The first soldier to face a court martial in connection with alleged sport killings of Afghan citizens pleaded guilty to four of five charges against him Wednesday and was sentenced to nine months in military confinement.
Staff Sgt. Robert G. Stevens was also reduced in rank to private -- the lowest grade in the Army -- and ordered to forfeit all pay and allowances during his imprisonment.
The investigating officer, Lt. Col. Kwasi Hawks, accepted Stevens' plea and imposed sentence Wednesday night.
Stevens had asked the court to allow him to stay in the Army; the prosecution had asked for a dishonorable discharge.

Army warned of soldiers' 'sport killing'
Stevens is one of seven soldiers "facing charges of serious misconduct while deployed in Afghanistan," the Army said in a statement.
Earlier hearings and court filings painted a picture of a group of soldiers gone rogue, accused of killing civilians, covering up the murders and keeping body parts as war trophies. Some of the men also are said to have taken pictures of themselves posing with dead civilians.
Stevens is one of 12 soldiers from Joint Base Lewis-McChord facing charges in the case. Five of them are accused of murdering Afghan civilians. Authorities say the killings took place at or near Forward Operating Base Ramrod in southern Afghanistan's volatile Kandahar Province.
According to investigative documents made available to CNN, one of the men collected human fingers from the victims.
Stevens, 25, faced five charges and waived his right to an earlier hearing to determine whether his case would proceed to court martial. The soldier served in Afghanistan as a medic. It was his first deployment, he said Wednesday.
The nine-month imprisonment -- significantly lighter than the 27-year sentence Stevens initially faced -- came after Stevens accepted a plea deal in which he agreed to cooperate with the prosecution in the case.
Stevens' attorneys pleaded not guilty on the charge of conspiring to commit aggravated assault with a dangerous weapon on three Afghan men.
They pleaded guilty for the soldier on charges of lying to investigators about being fired on and having a grenade thrown at his vehicle, shooting "in the direction of" two Afghan men, throwing a grenade from his vehicle while there was no threat to him or other soldiers, and not accounting for/disposing of the grenade properly.
Prior to sentencing, Stevens addressed the court for nearly an hour, discussing a tough childhood and how serving in the Army gave his life focus.
Stevens apologized for faking an enemy grenade attack on fellow soldiers and shooting near Afghan civilians.
"I did it, I screwed up, I didn't want to hurt anybody, I didn't want to scare anybody," he told the court. "I want to make up for the things I have done in Afghanistan, show people I am still a moral person, still a moral soldier."
During his testimony earlier Wednesday, Stevens told the court that Sgt. Calvin Gibbs, accused of being the ringleader behind the killings, provided him with the grenade he is charged with throwing.
Gibbs gave him the grenade wrapped in a sock inside a box in December 2009, Stevens testified.
"Paranoid" that he would be caught with the grenade, Stevens said, he threw it from the back of a truck convoy he was riding in one night months later.
"There's a grenade!" Stevens yelled. "Let's go get him!" Then he fired several rounds, he said, as if the convoy were under attack.
Stevens said he did not believe that any Afghans were injured by his actions.
During his testimony, he said he could have easily hurt his fellow soldiers.
"It was definitely reckless," he said. "I was in the back of the vehicle going 30 or 40 mph. I could have mishandled it."
Stevens also testified that in March, he and Gibbs were on patrol with five other soldiers in Kandahar when they spotted two Afghan farmers. One of the men carried a shovel, he said.
"They were not posing any threat to us," Stevens testified. According to Stevens, Gibbs said the men were carrying an rocket-propelled grenade launcher and ordered the soldiers to shoot them. Stevens told the court he intentionally shot 75 yards away from the Afghans, who took cover.
"Sgt. Gibbs said we needed to work on our accuracy," Stevens testified, "because it did not appear that we hit anyone."
During testimony from witnesses, Maj. Samuel Linn testified by telephone from Fort Jackson, South Carolina, that the grenade incident led to the false belief that soldiers had come under attack from enemy forces.
Fourteen soldiers were awarded Combat Infantry Badges, which were rescinded once officials learned that Stevens had thrown the grenade, Linn said.
News that a fellow soldier threw the grenade caused morale among many of the men to fall, Linn testified. Linn said he would not choose to serve with Stevens again.
But several other trial witnesses who had been in Afghanistan with Stevens said they would go back to war with him.
"I know that 'Doc" Stevens got my back," Sgt. Tim Schmidt said while appearing to fight back tears. "He made a mistake but he's a damn fine man."
CNN's Patrick Oppmann contributed to this report.
FOLLOW THIS TOPIC