Portland mayor to revisit opting out of FBI's terrorism task force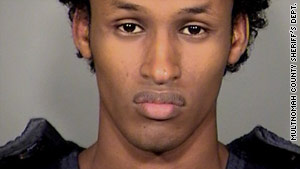 Mohamed Osman Mohamud is a naturalized U.S. citizen from Somalia.
STORY HIGHLIGHTS
Mayor Sam Adams requests a meeting with federal officials
Spokesman: Civil rights issues led to the previous decision to opt out
The mayor plans to meet with members of the Muslim community Monday night
(CNN) -- Three days after the arrest of a suspected terrorist in Portland, Oregon, Mayor Sam Adams is rethinking a decision he made five years ago not to participate in the FBI's Joint Terrorism Task Force, according to officials.
Apparently the mayor was so impressed with how well they city's police worked with the FBI to capture Mohamed Osman Mohamud, he has requested a meeting with federal officials to discuss the matter, said communications director Roy Kaufmann.
The 19-year-old was arrested Friday after he attempted to detonate what he thought was a vehicle bomb near a tree-lighting ceremony in Portland's Pioneer Courthouse Square, law enforcement officials said.
Kaufmann said concerns over civil rights issues led to Adams' decision not to become a member of the regional joint task force, which is composed of representatives from local, state and federal agencies.
"It's a very precarious battle between civil rights and security," said Kaufmann, "and we want to make sure that people's civil rights are not violated."
New leadership in the Justice Department and the White House has been cited as a reason for the mayor wanting to revisit his decision, Kaufmann said.

Alleged bomb plotter busted by FBI

Teen indicted in Oregon bomb-plot case
Meanwhile, efforts are under way to heal two communities rocked by suspected terrorism. According to Kaufmann, Adams is expected to meet with Muslims Monday night in an effort to move past Mohamud's arrest and the subsequent attack on a mosque in Corvallis, Oregon, where Mohamud was a student at Oregon State University.
A fire appears to have started sometime early Sunday morning at the Salman AlFarisi Islamic Center, authorities said. The blaze -- discovered by a police officer who was driving by -- probably was set intentionally, said Carla Pusateri, a fire prevention officer with the Corvallis Fire Department.
Since the fire, police have stepped up patrols around mosques in the area, Kaufmann said.
Officials hope Monday night's meeting will help bring police and Muslims closer together in an effort prevent further incidents.
FOLLOW THIS TOPIC