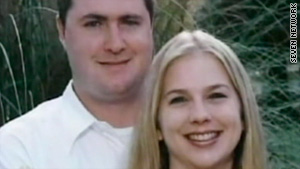 An Alabama grand jury indicted David Watson in the 2003 death of his wife Tina Watson in Australia.
STORY HIGHLIGHTS
Gabe Watson was arrested Thursday and charged with murder, kidnapping
Watson's wife died in 2003, while they were scuba diving during their honeymoon
Watson spent 18 months in an Australian prison after pleading guilty to manslaughter
His lawyers contend that Alabama authorities "manipulated" the grand jury
(CNN) -- Fresh off serving an 18-month prison term in Australia related to the scuba-diving death of his newlywed wife, a U.S. man was arrested Thursday after a grand jury in Alabama indicted him in her death.
Australian media dubbed David Gabriel "Gabe" Watson "The Honeymoon Killer" after his 26-year-old wife, Tina, died in October 22, 2003, while the two were diving at a historic shipwreck off the Great Barrier Reef. The incident occurred about 9,000 miles (14,500 km) from Birmingham, Alabama, where the couple had married 11 days earlier.
Watson, 33, returned to the United States after his wife's death and, five years afterward, remarried. That same year, 2008, he plead guilty in Australia to criminally negligent manslaughter. He finished his sentence there two weeks ago, and was subsequently being held in immigration detention.
On October 28, an Alabama grand jury indicted Watson on two counts -- murder for pecuniary gain and kidnapping where a felony occurred -- according to Donald Valeska, an assistant attorney general for Alabama. Those charges are based on the premise that Watson hatched the plot to kill his wife while in Alabama.
That indictment was made public Thursday, after Watson arrived in Los Angeles, California, and was arrested there, said Valeska.
It was not clear under exactly what circumstances Watson traveled from Australia to the United States. He was being held Thursday night by the Los Angeles police department.
A hearing to extradite him to Alabama is expected to be held early next week in Los Angeles, Valeska said.
His return to the United States had been held up by authorities in Australia, which has a policy of not extraditing suspects to possibly face the death penalty.
Last week, the Australian government agreed to deport Watson after getting assurances from U.S. authorities that "the death penalty would not be sought, imposed or carried out," said Sandi Logan, a spokesman for the Australian Department of Immigration and Citizenship.
"We have informed Mr. Watson and his legal representatives of this assurance," Logan said. "We are now satisfied that our international obligations have been met."
In a statement released earlier this month, the Birmingham-based law firm representing Watson -- Bloomston and Basgier -- said that Alabama authorities "manipulated a grand jury." The lawyers claimed state authorities based the indictment on testimony from Tina Watson's immediate family and a sole Helena, Alabama, investigator, saying of the witnesses "none could offer more than emotional testimony and heresay."
Australian authorities investigated Tina Watson's death for six years, and according to inquest findings in June 2008, Townsville, Queensland, Coroner David Glascow pressed for charges after determining that the drowning couldn't be deemed accidental.
According to the inquest, Watson told Glascow that his new bride appeared to panic while 45 feet underwater in the reef, 42 miles off the coast of Townsville. But Glascow cited inconsistencies in Watson's statements, saying that investigators found that "some of Gabe's explanations lacked credibility."
Glascow noted that Tina Watson's father, in a sworn statement, said Watson asked her to maximize her life insurance and make him a beneficiary shortly before their wedding. The insurance company confirmed Watson asked about his wife's insurance policy after her death, according to the coroner.
Watson's attorneys said that their client pleaded guilty in Australia only "for failing to rescue his wife (because) he merely did not do enough to save her."
Even before Thursday's arrest, the case had gained attention internationally and online, including dueling Facebook pages -- "Justice for Tina Watson" and "Support Gabe Watson."
Last month, Watson's lawyer, Brett Bloomston, told reporters that prosecutors' latest legal maneuverings in Alabama were "a desperate attempt at attention."
"While we strongly disagree with the motive, tactics and spirit of the prosecution, Gabe Watson and his family look forward to his being, once-again, vindicated for 'unjust' charges that he did anything intentional to cause the death of his wife, Tina," the law firm said in its statement this month.
"The state of Alabama will know, what the Australians already know: that Gabe Watson is not guilty of causing the death of his wife."
CNN's Janet DiGiacomo and Greg Botelho contributed to this report.
FOLLOW THIS TOPIC