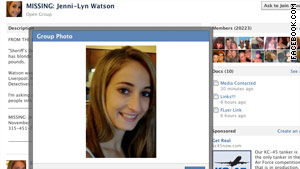 Jenni-Lyn Watson, 20, of Liverpool, New York, was last seen Friday at her family's home, police say.
STORY HIGHLIGHTS
NEW: Authorities looking at cell phone records
Simultaneous prayer vigils are held
College student disappears while on Thanksgiving break
Searchers are looking for Jenni-Lyn Watson near Syracuse, New York
(CNN) -- Family, friends and classmates turned to prayer and Facebook on Wednesday amid an ongoing search in upstate New York for a missing college student.
Jenni-Lyn Watson, 20, of Liverpool, was last seen Friday morning at her family's home, said Sgt. Robert Marshall of the Onondaga County Sheriff's Office. Watson was on a Thanksgiving break from Mercyhurst College in Erie, Pennsylvania. Liverpool is a suburb of Syracuse.
"This [disappearance] is extremely uncharacteristic for Jenni-Lynn," said Marshall. Watson's parents reported her missing Friday night.
The college junior's purse and other personal items were found at the home, but a Verizon LG enV3 phone is missing.
One call was made on the phone from a heavily wooded area near other residences, said Marshall, who declined to provide details. The phone has since been turned off or is not operating, he said. Authorities are looking at records of Watson's cell phone calls.
"We're still looking at everything," spokesman Sgt. John D'Eredita said Wednesday night. Detectives are following leads from numerous phone calls, but D'Eredita was not aware of any sightings of the young student.
Authorities consider Watson's disappearance a missing-person case, Marshall said. Detectives traveled to Mercyhurst, where they met with faculty and staff, the Onandaga County Sheriff's Office said.
Searchers had covered about 600 acres by Wednesday evening.
Sheriff's deputies are trying to identify the driver of a dark pickup truck that was seen near her residence the day Watson disappeared, D'Eredita said.
Watson is described as 5 feet, 2 inches tall and weighing about 100 pounds. She has dirty blond hair and brown eyes.
As of Wednesday afternoon, when simultaneous vigils were held for Watson, nearly 21,000 people had become members of a Facebook page about her disappearance.
One of the church vigils was organized by the family; the other was held in a chapel at Mercyhurst College, a Catholic institution.
"It was amazing today to see the turnout during fall break," college spokeswoman Debbie Morton said of the vigil held there. About 200 people attended, including members of the football team, which has a NCAA Division II game this weekend.
"You felt overwhelming worry, but you still felt there was reason to hope," Morton said.
Watson is a dance major and ballet dancer at Mercyhurst. "It is a highly disciplined area," Morton said of Watson's field of study.
Authorities asked people with information to call 315-435-3081.
CNN's Phil Gast contributed to this report.
FOLLOW THIS TOPIC