TSA officer suspected of kidnapping, assault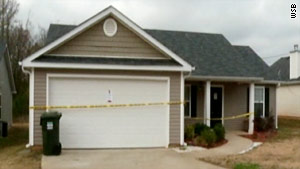 Police found suspect Randall Scott King, 49, in his Hogansville, Georgia, home with wounds on his body.
STORY HIGHLIGHTS
Warrants obtained for federal airport screening officer
The employee is suspected of kidnapping, assaulting a woman
He is in critical condition at hospital after being found with "several wounds"
The alleged victim said he gave her a suicide note to deliver
Atlanta, Georgia (CNN) -- Police in west Georgia found a wounded Transportation Security Administration officer at his home after a woman said the man kidnapped and sexually assaulted her, then gave her a suicide note to deliver, authorities said Tuesday.
Randall Scott King, 49, of Hogansville, was listed in critical condition Tuesday afternoon at Columbus Medical Center.
The alleged victim told police that King abducted her from a Metropolitan Atlanta Rapid Transit Authority (MARTA) parking lot in Atlanta on the evening of November 17 and took her to his residence in Hogansville, where the assault allegedly occurred, Hogansville police said in a statement.
A MARTA police report indicated the alleged kidnapping took place at the Lakewood station, a few miles north of Hartsfield-Jackson Atlanta International Airport. MARTA police were notified of the incident by police in Union City, an Atlanta suburb.
The woman was brought by someone to Union City Police on November 18, where she gave her account, Union City Detective Gloria Hodgson said. The woman told officers that King had offered her a ride, then later assaulted her, Hodgson said.
MARTA is assisting in the investigation, spokesman Lyle Harris told CNN.
King, a behavior detection officer, has been with TSA for more than five years, said TSA spokesman Jon Allen.
"We are cooperating fully with law enforcement during this ongoing investigation," Allen said.
Hogansville police said they obtained criminal warrants for King.
"The victim stated that she was released by Mr. King who provided her with a suicide note and instructions on where to deliver it," the statement said.
Acting on information from MARTA police, Hogansville officers "obtained a search warrant and entered Mr. King's residence. Upon entry into Mr. King's residence Mr. King was found to have several wounds about his body," the statement said. It was not clear specifically what type injuries King had or when he was found.
Hogansville is 50 miles southwest of Atlanta.
The department would not provide more specifics of the investigation. A call left at King's residence was not immediately returned.
FOLLOW THIS TOPIC