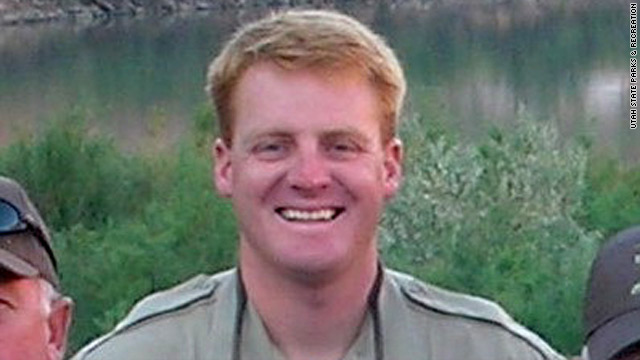 STORY HIGHLIGHTS
NEW: No breakthroughs in search for man suspected of shooting ranger
NEW: The victim, Brody Young, is in stable but serious condition
NEW: Extremely strong winds, possible snow in forecast for search area
The suspect is believed to be armed, dangerous and seeking medical help
(CNN) -- The hunt continued through a third day Monday for a man suspected of shooting of a park ranger, then fleeing into a rocky, rugged region of eastern Utah marked by caves and canyons.
Some 167 law enforcement officers from local, state and federal agencies scoured the region again on Monday looking for the suspect, Lance Leeroy Arellano.
Searchers on Sunday followed fresh foot tracks that matched Arellano's foot size and "tread pattern" into a boulder field, but had no breakthroughs Monday, said Grand County Sheriff Jim Nyland. While noting the 40-year-old Sanpete County, Utah, resident doesn't appear overly familiar with the area's rugged terrain, the sheriff said that he thinks the suspect is alive and hasn't gone far.
"We widened our search in a larger area, and we were unable to come up with anything at all," Nyland said Monday. "We're confident he's still here, and after tomorrow we'll know for sure."
The 34-year-old ranger, Brody Young, meanwhile remained in "serious but stable" condition at a nearby hospital after being shot multiple times on Friday night, Nyland said. He was injured while on patrol near the Poison Spider Mesa Trail area, an area marked by cliffs, dry canyons and rocky terrain that's a haven for mountain bikers as well as hikers.
"He's been sedated pretty heavily, and I don't think even his family has been able to talk with him," the sheriff said of Young. "He's hurt bad."
Authorities formally labelled Arellano a suspect Monday, after using fingerprint evidence to tie him to a silver 1999 Pontiac Grand Am that's part of the investigation. Nyland also linked him to a rifle, backpack and part of a blood-soaked T-shirt that searchers found over the weekend about a mile from where investigators found the Pontiac near Moab, Utah.
Arellano's mother contacted law enforcement, and investigators from the Weber, Utah, County sheriff's office interviewed her and several of his acquaintances Monday. Nyland said that Arellano had been living his mother, hadn't worked in a year and a half, and had "very limited friends."
Law enforcement described Arellano as standing 6 feet, 1 inch, with long black hair and hazel eyes. The sheriff's office said he has a criminal history, including arrests on assault, drug possession, drug paraphernalia and theft charges.
Nyland said that authorities believe the suspect was shot at least once in the "lower leg." They have yet to announce any possible motive for the shooting.
The weather could complicate the search for Arellano, as the National Weather Service has issued a high wind watch for much of the region, including Moab, from Tuesday afternoon through Wednesday morning. Those gusts -- as strong as 55 mph -- accompany a strong cold front that could dump snow starting mid-week.
Nyland said any inclement weather would not slow searchers, who hoped to have "every hole and every crack checked" by Tuesday night and had set up a round-the-clock watch of the search area's perimeter. The suspect, he said, didn't have a cell phone and likely is not wearing much more than a light jacket, though he could escape the cold by finding refuge in one of the area's many caves.
"We're going to do the ground search tomorrow, no matter what the weather is," he said. "This has to be done. And the men are prepared to do that."
CNN's Justin Lear and Rick Martin contributed to this report.
FOLLOW THIS TOPIC