Tentative trial date set for sexual coercion suits against pastor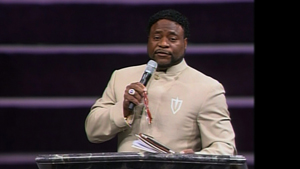 Bishop Eddie Long has denied allegations that he sexually coerced four young men at his church.
STORY HIGHLIGHTS
Attorneys in sexual coercion suits against Bishop Eddie Long meet for status hearing
Tentative trial date set for July, but mediation sessions expected in February
Four men accuse Long of coercing them into sexual relationships
Long has denied the allegations
(CNN) -- The prominent Georgia pastor being sued for sexual coercion by four men will face his accusers in court next summer if the cases cannot be settled through mediation before then.
Attorneys representing Bishop Eddie Long and the men suing him met with a judge in a DeKalb County courtroom Friday for a status conference hearing, said Wendy Guarisco, spokeswoman for attorney B.J. Bernstein, who represents the plaintiffs.
During the hearing, the judge set a tentative trial date of July 11, but both parties have agreed to meet for mediation, which is expected to be held in February, according to CNN affiliate WSB-TV in Atlanta.
In September, the men filed separate lawsuits against Long and his New Birth Missionary Baptist Church.

Bishop Eddie Long speaks to church

Accuser's message for Bishop Long
Anthony Flagg, Maurice Robinson, Jamal Parris and Spenser LaGrande accuse the pastor of using his power and influence within the 25,000-member church to coerce them into having sexual relationships with him while they were teenage members of his congregation.
The suits allege the relationships lasted over many months.
Long took the young men on trips, including to Kenya, according to the suits. He allegedly enticed the young men with gifts, including cars, clothes, jewelry and electronic items.
The lawsuits say Long engaged in intimate sexual acts with the young men, such as massages, masturbation and oral sex.
Long has denied the allegations.
Married with four children, Long has preached passionately against homosexuality over the years.
The church has filed an official response to the lawsuits, conceding the accusers did take trips with Long. The church, however, said it could not confirm or deny what happened on the those trips.
FOLLOW THIS TOPIC