Feds: More than 6,600 hate crime incidents in 2009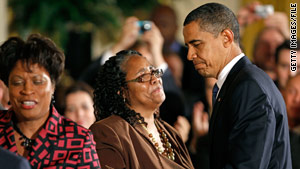 President Obama greets James Byrd Jr.'s family after remarks on the enactment of the 2009 Hate Crimes Prevention Act.
STORY HIGHLIGHTS
There were 6,604 reported incidents characterized as hate crimes nationwide in 2009
Almost half of incidents due to racial bias, report says
More than 60 percent of known offenders white, report says
Washington (CNN) -- There were 6,604 criminal incidents characterized as hate crimes reported in the United States in 2009, according to an FBI report release Monday.
The incidents involved 7,789 offenses resulting at least in part from bias toward a person's race, religion, sexual orientation, ethnicity, national origin or disability, the report said.
Almost half of the incidents were motivated by racial discrimination, while almost one in five were based on religion. Nearly 19 percent of the crimes were due to a person's sexual orientation.
Sixty-two percent of the known offenders were white, the report concluded. Almost 19 percent were African-American.
The largest percentage of hate crime incidents occurred in or near private homes.
The FBI's annual hate crimes report is based on data submitted by various law enforcement agencies across the country.
FOLLOW THIS TOPIC