Suspect in Utah park ranger's shooting is at large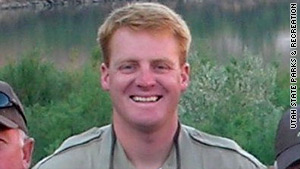 Ranger Brody Young was shot multiple times Friday night in the Poison Spider Mesa Trail area.
STORY HIGHLIGHTS
NEW: The ranger who was shot is identified as Brody Young, 34
A man suspected of shooting a park ranger is "wounded and on foot"
130 local, state and federal officers are on a manhunt in rugged terrain
After being shot three times, the ranger is conscious and talking to officers
(CNN) -- Scores of law enforcement officers are scouring rugged terrain in Utah for a wounded man they say repeatedly shot a park ranger, authorities said.
"He is wounded, and on foot," said Grand County, Utah, Sheriff Jim Nyland, who is leading the search.
Ranger Brody Young was shot multiple times Friday night while on patrol on the Poison Spider Mesa Trail area near the city of Moab, according to the Grand County Sheriff's Department. Marked by cliffs, dry canyons and rocky terrain, the Poison Spider trail is a haven for mountain bikers as well as hikers.
The ranger had stopped the man in his vehicle, then was shot in the arm, leg and stomach as the two exchanged gunfire, according to CNN affiliate KSL.
He was airlifted to hospital, where he was conscious and talking to officers, the affiliate said.
Young, 34, has been an enforcement officer with the Utah State Parks system for 4½ years, said Deena Loyola of the agency.
Local, state and federal authorities have since teamed up to look for the suspect, who had not been identified as of Saturday evening. They include 130 officers from the sheriff's department, Utah state agencies, the FBI, the National Park Service and local police departments, according to Nyland.
Bloodhounds on Saturday picked up a scent leading into an area with multiple canyons and places to hide, the sheriff said. The suspect's silver car was found the previous day, leading investigators to believe he had walked into the park.
CNN's Rick Martin contributed to this report.