Police: Alleged kidnapper, 12-year-old may be headed to Mexico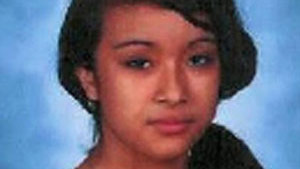 Julieta Yoselin, 12, was last seen in a CVS Pharmacy parking lot in Clemson, South Carolina
STORY HIGHLIGHTS
Girl was last seen Monday in Clemson, South Carolina
She is believed to be "in extreme danger"
FBI: The two may have been in Atlanta, Georgia, Wednesday night
(CNN) -- A kidnapped South Carolina girl and the man sought in her abduction may be headed to Mexico, the FBI said Thursday.
Julieta Yoselin, 12, was last seen in a CVS Pharmacy parking lot in Clemson, South Carolina, according to a flier from the National Center for Missing and Exploited Children, disseminated by the FBI. That sighting was on Monday, according to CNN affiliate WYFF. Authorities said she is believed to be "in extreme danger."
WYFF said Yoselin and a friend were walking home and thought a car was following them, according to police. While the friend called authorities, Yoselin disappeared.
The suspect in Yoselin's kidnapping is Jesus Alanda Lozada, 26. The two may be traveling in a tan Honda Accord with South Carolina license plate number GAT461.
Police said Lozada is a family friend of Yoselin, according to WYFF.
South Carolina has issued an Amber Alert, but Georgia had not yet done so as of Thursday afternoon, said Stephen Emmett, special agent with the FBI's Atlanta, Georgia, office. However, the "investigation indicates that the two were in Atlanta as recently as last night and that they may be en route to Mexico," Emmett told reporters Thursday.
The FBI was obtaining a federal warrant on a charge of unlawful flight to avoid prosecution, he said.
Yoselin was last seen wearing black calf-length boots, black tight pants and a black shirt with a white "scream" mask, according to the National Center for Missing and Exploited Children flyer. She is about 4 feet tall and weighs 85 pounds, with black shoulder-length hair and brown eyes.