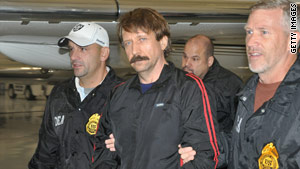 Viktor Bout, a Russian citizen and former Soviet military officer, was extradited from Thailand to New York this week.
STORY HIGHLIGHTS
Viktor Bout says the U.S. tried to pressure him to confess, a Russian official said
Bout told the Russian consul that he was subjected to "professional psychological pressure"
The alleged arms dealer could face life in prison if found guilty
Moscow, Russia (CNN) -- Suspected international arms dealer Viktor Bout is claiming that he was pressured by U.S. authorities to confess on his extradition flight from Thailand to the United States, a deputy spokesman for Russia's foreign ministry said Thursday.
Spokesman Alexei Sazonov told reporters at a news briefing in Moscow that Russian officials will closely monitor the charge and "respond accordingly."
Deputy Russian Consul General Andrei Yushmanov told state media that Bout told him that he was subjected to "professional psychological pressure" during his extradition flight, Russia's official news agency ITAR-TASS reported Thursday.
Bout is now in U.S. custody awaiting trial on charges that he agreed to sell millions of dollars of weapons to a Colombian narco-terrorist organization. He pleaded not guilty Wednesday in a U.S. courtroom in New York to four counts of terror-related crimes.
Since his extradition, Russia has urged U.S. authorities for a fair hearing in the case.
"Our diplomats have been instructed to carry out all necessary measures to protect Viktor Bout's interests," Sazonov said.
"Viktor Bout needs support," he said, adding that Russia will provide him with a lawyer if necessary.
The alleged arms dealer faces charges of conspiracy to kill U.S. nationals, conspiracy to kill U.S. officers or employees, conspiracy to acquire and use an anti-aircraft missile, and conspiracy to provide material support or resources to a designated foreign terrorist organization. In this case, that would be the Revolutionary Armed Forces of Colombia or FARC.
Bout appeared before U.S. District Judge Shira A. Scheindlin wearing a brown t-shirt, black track pants and black sneakers. He was given headphones to hear the court proceedings translated into Russian, but Bout -- who speaks six languages -- spoke English to the judge and his attorney.
The hearing lasted about 10 minutes.
"The so-called 'Merchant of Death' is now a federal inmate," said U.S. Attorney Preet Bharara.
He said if Bout is convicted on all counts, he could face a mandatory minimum of 25 years in prison and a maximum sentence of life in prison. Bharara also announced an unsealed guilty plea of an alleged Bout associate, Andrew Smulian, on the charges.
The Justice Department said that between November 2007 and March 2008, Bout agreed to sell millions of dollars of weapons to the FARC, called the "world's largest supplier of cocaine" and dedicated to the violent overthrow of the democratically-elected Colombian government.
The weaponry allegedly included "surface-to-air missile systems; armor piercing rocket launchers; AK-47 firearms; millions of rounds of ammunition; Russian spare parts for rifles; anti-personnel land mines; C-4 plastic explosives; night-vision equipment; 'ultralight' aircraft that could be outfitted with grenade launchers and missiles; and unmanned aerial vehicles."
Drug Enforcement Administration agents led a sting operation by posing as FARC members, and Bout was arrested in Thailand in 2008, where he remained in custody until Tuesday.
Bout had agreed to sell the weapons to two confidential sources working with the Drug Enforcement Administration, the government said. In a meeting recorded in Thailand in March 2008, Bout said he could have the materiel airdropped to the FARC and offered to sell two cargo planes as well, the government alleges.
Bharara said Bout indicated that he wanted the weapons to be used against U.S. personnel in Colombia. He indicated that the United States was his enemy and that the FARC's battles against the United States were his as well, the government said.
He was arrested after that meeting by Thai officials.
Bout arrived in New York late Tuesday, after being extradited from Thailand. The Russian citizen and former Soviet military officer is being held in a high-security prison in Manhattan until his trial, the Justice Department said.
Bout allegedly began building his arms business as the Soviet Union disintegrated in the early 1990s. He acquired surplus Soviet planes and started shipping arms and ammunition to conflict zones, according to the U.S. Treasury Department.
Bout -- who has gone by many other names, including "Victor Anatoliyevich Bout," "Victor But," "Viktor Budd," "Viktor Butt," "Viktor Bulakin" and "Vadim Markovich Aminov" -- is accused of supplying weapons to war zones around the world, from Sierra Leone to Afghanistan. But he has repeatedly said he has broken no laws and that the allegations against him are lies.
Attorney General Eric Holder said Bout's "alleged arms trafficking activity and support of armed conflicts in Africa has been a cause of concern around the world."
"His extradition is a victory for the rule of law worldwide. Long considered one of the world's most prolific arms traffickers, Mr. Bout will now appear in federal court in Manhattan to answer to charges of conspiring to sell millions of dollars worth of weapons to a terrorist organization for use in trying to kill Americans."
CNN's Matthew Chance and Maxim Tkachenko in Moscow and Sally Garner in New York contributed to this report