Judge in Hasan hearing recommends court martial, seeking death penalty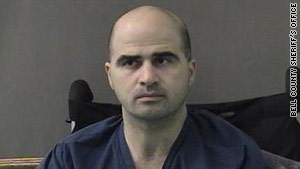 Maj. Nidal Hasan is accused in the November 5, 2009, shootings in which 13 people were killed.
STORY HIGHLIGHTS
Maj. Nidal Hasan is accused of killing 13 people at Fort Hood last year
The top officer in a just-completed hearing has made his recommendations in the case
He says the Army should pursue the death penalty against Hasan
Washington (CNN) -- The investigating officer in the case of the accused Fort Hood, Texas, shooter has recommended that the military pursue the death penalty against Maj. Nidal Hasan.
Col. James Pohl, who acted as judge during Hasan's just-completed Article 32 hearing, also recommended a general court martial for Hasan, who faces 13 counts of pre-meditated murder and 32 counts of attempted pre-meditated murder in the shootings at Fort Hood on November 5, 2009.
Pohl's recommendation is non-binding, according to a statement from the base public affairs office.
Pohl "found reasonable grounds to believe an aggravating factor exists to authorize capital punishment and recommended that a referral to a general court-martial be capital," the statement said.
The final decision to pursue a court martial and the death penalty will likely be made by the commander of Fort Hood, currently Maj. Gen. Will Grimsley.
"I wasn't surprised about the general court martial recommendation. I was surprised about the capital referral," Hasan attorney John Galligan said regarding Pohl's recommendation to make this a capital murder case. "Maybe he is a death penalty kind of guy."
If Hasan is convicted of multiple murders for the massacre at Fort Hood, the death penalty is not a certainty. No service member has been executed by the U.S. military nearly in half a century.
In one recent case, then-Sgt. William J. Kreutzer was convicted of opening fire on troops going through morning exercises at Fort Bragg, North Carolina, in 1995. He was sentenced to death but it was later commuted to a life sentence on appeal because of questions about his sanity.
Hasan's mental fitness to undergo a court martial remains to be determined.
Col. Morgan Lamb, the officer who formally order Hasan to be investigated for the Fort Hood shootings, has ordered a "706 Board" in the case. That board, made up of three mental-health experts, will determine if Hasan is sane and able to be tried. The three experts were told to interview Hasan before the Article 32 hearing, but Galligan had several objections to the interview and told his client not to answer questions.
Galligan objects to having mental-health experts from the military on the board while the U.S. Army is investigating whether military medical officials who worked with Hasan before he was stationed at Fort Hood should be held accountable for any mistakes regarding Hasan's training as an Army psychiatrist.
From CNN's Larry Shaughnessy.
FOLLOW THIS TOPIC