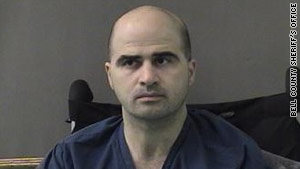 Maj. Nidal Hasan is accused in the November 5, 2009, shootings in which 13 people were killed.
STORY HIGHLIGHTS
Texas Army base still grappling with shooting massacre that left 13 dead, dozens wounded
Some on base got tattoos of dead soldiers' names and date of shooting
Case raises sensitive questions about dissent in ranks along religious lines, observers say
Fort Hood, Texas (CNN) -- In the end, all he said was "no."
That was accused Fort Hood shooter Maj. Nidal Hasan's response to an offer to make his case in a military hearing examining the events of November 5, 2009.
One version of what happened that day -- the worst shooting on a military base in history -- already unfolded in gruesome and disturbing detail as 56 witnesses testified for the prosecution over two weeks in late October.
One said the murder scene stank like a battlefield, with the smell of gun smoke and blood.
But this week, when their turn came to shape that narrative, Hasan and his attorneys took a pass. In a hearing that lasted two minutes, the lawyers brought no witnesses to the stand, and Hasan made no comment.
The investigating officer in the case on Wednesday recommended that Hasan face court-martial, the military equivalent of a civilian murder trial. He also recommended that the military pursue the death penalty.
Now, this huge swath of central Texas, no stranger to violence and loss, may get another chance to see if the questions that still loom large can be answered:
Why did the shooter do it? Was he influenced by overseas militants? Did he snap at the prospect of deploying soon to the war zone? How could the killing of 13 and attempted murder of 32 been prevented? Did the military fail to pay enough attention to Hasan's alleged discontent about the treatment of Muslim soldiers?
In the area surrounding this base near Kileen, Texas, fighting wars is the family business; more than 550 soldiers from Fort Hood have died on the battlefields of Afghanistan and Iraq in the past nine years.
And many of the soldiers caught up in the massacre at Fort Hood were following the nation's orders -- preparing to put themselves in harm's way overseas. Instead, they found themselves bleeding and dying on their home turf.
"It was complete chaos in our building," said Sgt. 1st Class Ingar Campbell. "Gunfire and cries of agony."
The crime scene was a mundane office space where soldiers went to get their medical forms approved and immunizations updated. It was quickly transformed with what a number of witnesses described as the "pop, pop, pop" of rapid gunfire. Gun smoke blotted out overhead lights. The floor was slippery with pools of blood and shell casings, for those who dared to move.
"It smelled like feces, smoke and blood," said Staff Sgt. Michael Davis.
Again and again, soldiers who took the stand said they assumed the noise was a training exercise to tune them up for dangers ahead. It took the sight of blood, sometimes their own, to shock them into hiding, fighting back, playing dead, helping fallen buddies.
Witnesses described how the alleged shooter, an American-born Muslim and Army psychiatrist, yelled as loud as a drill sergeant when he cried out, "Allahu Akbar," Arabic for "God is great." He then fired more than 200 times.
Hasan sat partially paralyzed in a wheelchair in the small military courtroom as witnesses stood and pointed at him, recalling the way he walked: slowly, deliberately and aimed to kill.
He spoke occasionally to his attorneys but for the most part sat absolutely still, without expression. The sound of 911 tapes filled the dark-paneled courtroom with a cacophony of deadly chaos -- the quick pop of gunfire and the moans of the dying.
If the motivation for the shooting is unknown, so too is how the shooter chose his victims. One thing is clear: Almost all were military.
Civilian nurse Ted Coukoulis told how he could hear Hasan getting closer, with the shell casings wedged in the cleat of his combat boots making a clack, clack, clack sound.
Coukoulis was trying, futilely, to hide behind a skinny IV pole. Clearly visible to the shooter, he saw the laser from the gun sight cross his eyes. Three soldiers were killed right beside him, but Coukoulis was spared.
In the final gunfight, witnesses said, Hasan was standing over civilian police officer Kim Munley. Hasan already had wounded her, according to Munley. She was on the ground; her own handgun had malfunctioned and was useless. He kicked her gun away, but didn't kill her.
One civilian, physician's assistant Michael Cahill, was killed. Witnesses said he tried to rush the gunman, hoping to knock him down with a chair, but was shot before he got a chance.
The 32 wounded victims told their stories at the preliminary hearing. Some hobbled in with canes; others testified from Afghanistan and Iraq via video link. They pointed out where they still carry bullets in their bodies and described their physical and mental pain.
Jessica Hansen, a regular in the spectator seats of the courtroom, is the fiancée of the most seriously wounded victim, Staff Sgt. Patrick Zeigler. She said the families welcomed the hearing despite the horror of reliving it.
"It's nice to have some answers," Hansen said. "We've been waiting for a year."
Zeigler, like all soldiers called as witnesses, was ordered not to talk to journalists about what happened. But Hansen, who's been at his side through 10 months of hospitalization and daily physical therapy, said the witnesses were ready to have their say in court.
"Patrick said it was the right thing to do, and it was just easy," Hansen said.
Zeigler had just returned from his second deployment in Iraq and was bound for Officer Candidates School and a bright military future. He walks with a cane now. The prosecution put up 56 witnesses in 6½ days of testimony, prompting questions of whether they were spending too much time on a preliminary hearing to decide whether Hasan should face a court-martial.
Michelle Lindo McCluer, executive director of the National Institute of Military Justice, said the deliberate approach taken by the prosecution was an indication of how seriously the Army is taking the case.
"This is high-profile, and they know it is going to be appealed, and appealed and they don't want it overturned if they didn't do enough," Lindo McCluer told CNN. But she also pointed out that the defense could benefit from the prosecution's parade of witnesses because it signaled how its case might proceed if and when there is a court-martial.
"This is a wonderful opportunity for the defense to use this as a discovery process -- what do witnesses say and how do they come across," she said.
Eugene Fidell, a lawyer who lectures on military justice at Yale Law School, said the case is important because it raises sensitive questions about dissent in the ranks along religious lines. He and other experts are watching it closely.
"A full and impartial hearing is critical," Fidell told CNN. Fidell predicted a death penalty trial would be lengthy.
"If it becomes a capital case, it is going to take awhile. The defense has a responsibility on behalf of their client to fight like hell."
Hasan sat at the far left of the defense table, wearing the same combat fatigues and boots as the investigating officer, Col. James Pohl, prosecutors and most witnesses.
Only Hasan's lead defense attorney, John Galligan, who retired from the military, wore civilian clothes. Occasionally, hinting at how tough he would be in a life-or-death court-martial, Galligan quizzed witnesses on discrepancies between their descriptions of events on the stand compared with what they told law enforcement hours after the killings.
Hasan is presumed innocent until proven guilty and collects his major's pay of some $65,000 a year. He is held in the county jail, where the roster lists "charges unknown" next to his name.
Less than a block away from the small military courthouse where the hearing was held is a commercial strip that caters to the soldiers.
Nicke Franklin was taking a smoke break outside Skin Tones tattoo parlor during phase one of the hearing. She remembered getting requests for special tattoos after the shootings. "Some people came in and got dog tags," she said. "Others wanted angel wings" and the name of a fallen buddy.
Some asked for a tattoo bearing the date of the shooting: November 5. Around Killeen, where many regard what happened as terrorism, the day is referred to as their 5/11.
CNN's Larry Shaughnessy contributed to this report.
FOLLOW THIS TOPIC