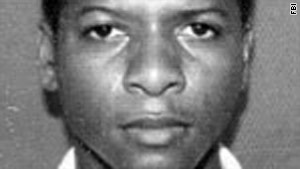 Ahmed Khalfan Ghailani is charged with conspiracy and murder in attacks on U.S. embassies.
STORY HIGHLIGHTS
Jurors again appear to be deliberating, ask judge for clarification
Note from juror on Monday fueled speculation over a possible hung jury
Ahmed Khalfan Ghailani is first Guantanamo detainee tried in civilian court
New York (CNN) -- A federal jury that once appeared deadlocked in a landmark terror trial involving the first Guantanamo detainee to be tried in civilian court has asked the judge for clarification of a point related to charges in the case.
Ahmed Khalfan Ghailani faces charges of conspiracy and murder in the 1998 attacks on U.S. embassies in Nairobi, Kenya, and Dar es Salaam, Tanzania.
A note from a juror on Monday asking to be "excused or exchanged" fueled speculation over a possible hung jury, but jurors on Tuesday asked Judge Lewis Kaplan to further explain five conspiracy and terrorism related charges upon which Ghailani's fate may hinge.
Jurors are seeking clarification in determining whether the 36-year-old Tanzanian man consciously avoided knowledge of the group's plan before helping it bomb two U.S. embassies, killing 224 people and wounding thousands.
His defense maintains that he was unwittingly exploited by al Qaeda, the group that claimed responsibility for the attack.
"Call him a dupe, call him a pawn -- used, set up like a bowling pin, in the immortal words of Jerry Garcia," defense attorney Peter Quijano said. "But don't call him guilty."
Prosecutors have attempted to show Ghailani intended to contribute to the bombing, pointing to evidence that he allegedly obtained gas tanks used in the attack in Tanzania.
They also noted his presence in Dar es Salaam and Mombasa, Kenya, with members of the bomb plot.
The trial had been widely considered a testing ground for the Obama administration, which has said it could try some terrorism suspects in civilian courts instead of military tribunals.
The prosecution, which made its closing arguments November 8, has accused Ghailani of 285 counts of conspiracy and terrorism-related charges.
Assistant U.S. Attorney Harry Chernoff said he played a key role in securing the trucks that carried the bomb in Tanzania and securing other materials.
"He is a mass murderer who has the blood of hundreds on his hands," Chernoff told the jury.
The alleged terrorist conspirator at times appeared fascinated by his own trial, comparing his case to a John Grisham thriller.
"The biggest compliment he paid me was that I was better than [Grisham]," said defense attorney Peter Quijano.
The defense called no witnesses and the defendant did not take the stand.
At the onset of the trial in October, the presiding federal judge barred prosecutors from calling a crucial witness, with the judge saying the government had obtained the identity and location of the witness through Ghailani when he was held and interrogated at a jail overseas run by the CIA.
Ghailani was captured in Pakistan in 2004 and moved to Guantanamo two years later. He was transferred to a federal prison in New York last year.
The government has consistently rejected the claim that Ghailani was duped into participating in the attacks.
"This is Ghailani, " Chernoff said last week, pointing at the defendant, who at times appeared to be joking and laughing with his attorneys when the jury was not present.
"This is al Qaeda, this is a terrorist. This is a killer. I ask that you return a verdict of guilty on all counts."
FOLLOW THIS TOPIC