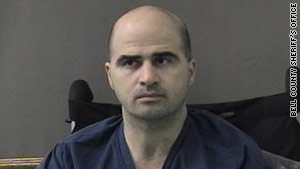 Maj. Nidal Hasan is accused of the November 5, 2009, shootings, in which 13 people were killed.
STORY HIGHLIGHTS
NEW: Defense attorney says he's being denied key pieces of evidence
Hearing lasts just two minutes; Maj. Nidal Hasan declines to make a statement
Hasan is accused of being the shooter who killed 13 people at Fort Hood last year
The hearing is to determine if a court-martial is to be held for Hasan
Fort Hood, Texas (CNN) -- Army Maj. Nidal Hasan, accused of the Fort Hood massacre last November, on Monday maintained the mystery about his thoughts, keeping silent when he and his lawyer had their chance to outline their case.
Lawyers for Hasan brought no witnesses to the stand in the military hearing about the shootings.
Asked if he wished to make a statement, Hasan gave a barely audible "no" to the presiding officer.
The hearing lasted only two minutes.
After the extremely quick session inside the courtroom, defense attorney John Galligan told journalists that he was being denied key pieces of evidence, including results of a intelligence review ordered by President Obama and a probe of what Hasan's superior officers at Walter Reed Army hospital in Washington knew and said about Hasan.
"These are serious continuing issues which need to be addressed," Galligan said. "There are investigations that have been conducted as they relate to this case, there is evidence out there that relates to this case, that has not yet been furnished to the defense."
"I don't think it takes any great leap of logic to conclude that that information might be relevant and beneficial to the defense," Galligan said.
Galligan would not address whether the defense decision not to add to the Article 32 hearing was a bid to keep his strategy hidden until the expected court-martial. And he brushed aside any question about Hasan's role in the shooting. He said information about events leading up to the November 5, 2009, events would provide important insights into what happened.
"If you don't get proper pretrial process, regardless of what the evidence is, you don't get a fair trial."
"No matter what you think of the charges, or whatever opinion people may have formed about my client, we all as Americans are entitled to the very rights I'm talking about now. If we don't apply them and if we don't seek to honor them in the context of the most difficult cases, as this is, then we all lose.," Galligan said.
No one can estimate how long it may take to move the case forward now. The presiding officer will make a report and then the defense will have an opportunity to review that and make comments. There is also a slim possibility that if more information becomes available, the hearing could be reopened.
Controversy continues to swirl on the periphery of the case, with U.S. senators and others trying to gain access to information about what U.S. intelligence agencies knew about Hasan and his contacts with Muslim extremists overseas before the shootings, information still kept under wraps by the Obama administration.
If released, it could offer new insight into whether Hasan's Army superiors may have turned a blind eye to his vocal opposition to the wars in Iraq and Afghanistan and his statements that Muslims shouldn't kill fellow Muslims. Hasan was days away from deploying to Afghanistan at the time of the shootings, as were many of the victims.
Sen. Joseph Lieberman, chairman of the Senate homeland security committee, and Sen. Susan Collins, R-Maine, are expected to release a report after Thanksgiving about information that for now is still classified by the government.
Lieberman was also critical of a new Army report, issued last week, which laid out new policies and procedures to protect U.S. troops from internal threats.
"It is disappointing that these final reports fail to mention violent Islamist extremism and do not offer explicit policies or procedures to make sure that service members who become radicalized to violent Islamist extremism are identified, reported, and discharged," a Lieberman spokeswoman said in a statement.
"Senators Lieberman and Collins will soon issue their own report, which will include recommendations for DOD to deal directly and effectively with the deadly threat that violent Islamist extremism poses to our service members," the statement continued.
FOLLOW THIS TOPIC