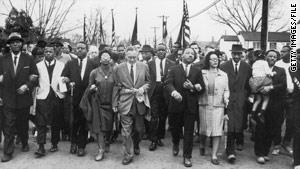 The case is cited as a fuse for the Selma-Montgomery march led by civil rights luminaries such as Martin Luther King Jr.
STORY HIGHLIGHTS
Former trooper apologizes to family of slain civil rights protester
Passage of time made case difficult to prosecute
Ex-state trooper says he shot in self-defense
(CNN) -- Former Alabama state trooper James Bonard Fowler, 77, pleaded guilty to misdemeanor manslaughter Monday in a civil rights-era murder case that was a catalyst for the 1965 Selma-Montgomery march, District Attorney Michael Jackson told CNN.
Fowler was on trial in Perry County, Alabama, for the February 1965 murder of Jimmie Lee Jackson during a voting rights-related protest in Marion, Alabama. Jackson, who was black, was beaten and shot. He died a few days later, according to court documents.
"The Jimmie Lee Jackson case is perhaps the most significant of all the civil rights cold cases," said Richard Cohen, president of the Southern Poverty Law Center in Montgomery, Alabama. Cohen called Monday's plea anticlimactic, adding, "The more important verdict in the case was rendered by the thousands of people who marched from Selma to Montgomery in the name of voting rights in response to Jackson's killing."
At the time, the shooter was unknown. In 2005, Fowler said he shot Jackson in self-defense when he and other troopers were called to the scene of the protest.
As Jackson family members looked on, Fowler entered his plea Monday at the Perry County Courthouse. "We feel the family showed more mercy than he did to Jimmie Lee Jackson," the district attorney said. Fowler will serve six months in jail.
Jackson, no relation to the victim, told CNN his office achieved its three goals in the case. "He admitted his guilt, he apologized to the family for what he had done, and he served some time," Jackson said.
The murder case was reopened in 2005 after Fowler told local media that he was the shooter, but that he shot in self-defense. In May 2007, a Perry County grand jury indicted Fowler for Jackson's murder.
While not as well known as other civil rights-related cases, such as the 1963 church bombing in Birmingham, Alabama, Jackson's death is often cited by groups such as the Southern Poverty Law Center as a trigger for the Selma-Montgomery march that eventually helped lead to the passage of the Voting Rights Act.
The case is one of a number of civil rights-era murder cases that have been reopened in recent years. Such cases present a number of challenges for a prosecutor, said Don Cochran, a professor at the Cumberland School of Law at Samford University in Birmingham. Cochran was part of the prosecution team that convicted Bobby Frank Cherry in 2002 for his involvement in the bombing deaths at the Sixteenth Street Baptist Church in Birmingham.
"In a lot of these cases, it would have been difficult to try them even two weeks after they happened, especially in a self-defense case," Cochran told CNN on Monday. "Your witnesses, a lot of them, are just gone."
Cohen said the passage of time presents issues for both the defense and the prosecution, but that cases like this should be pursued.
"In general, the argument that too much time has passed is an argument that accepts the injustices of the past," he said. "It's really quite important that these old wounds be healed. The few cases that can be prosecuted will have to serve as a proxy for justice for those cases that will never come to fruition."
FOLLOW THIS TOPIC