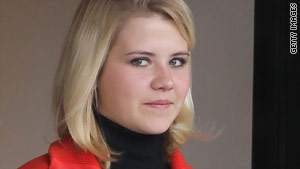 Elizabeth Smart leaves federal court Monday in Salt Lake City, Utah.
STORY HIGHLIGHTS
Elizabeth Smart recalls details of "my nine months in hell" in 2002-03
Her accused captor spoke of bizarre, divine revelations, she testifies
She testifies of encounters with police in which she could have been saved
Brian David Mitchell, 57, faces life in prison if convicted
For additional coverage of this trial, check out CNN affiliates KSTU and KSL.
Salt Lake City, Utah (CNN) -- Elizabeth Smart will return to the witness stand Wednesday after testifying for two days about what she called "my nine months in hell."
Smart, who has described the details of her life as a captive plural wife, ended her testimony Tuesday with a dramatic account of how her ordeal ended.
She calmly told jurors of being raped and degraded by self-professed prophet Brian David Mitchell at crude camps in the mountains above Salt City, Utah, and outside San Diego, California. She said she was forced to wear robes and a veil, was ordered not to speak to anyone, and was subjected to daily rapes by a man who claimed to be a prophet of God and referred to his private parts as "Immanuel's Pride."
She described revelations he claimed to have received: In one, he was to take seven wives, and then multiply that number seven times. In another, he said God told him to drink as much as he wanted.
Smart's captivity ended in Sandy, Utah, on March 12, 2003, when she was stopped with Mitchell and his wife, Wanda Barzee, outside a Walmart store.
"Several cop cars drove up by us," she said, and the three were separated. Mitchell told police they were traveling preachers and that Smart was his daughter, Augustine Marshall. She went along with the ruse because she was afraid, Smart said, but police weren't buying their story.
"They started asking me if I was Elizabeth Smart, if I knew that my parents were looking for me and very worried," she said, looking directly at the jurors.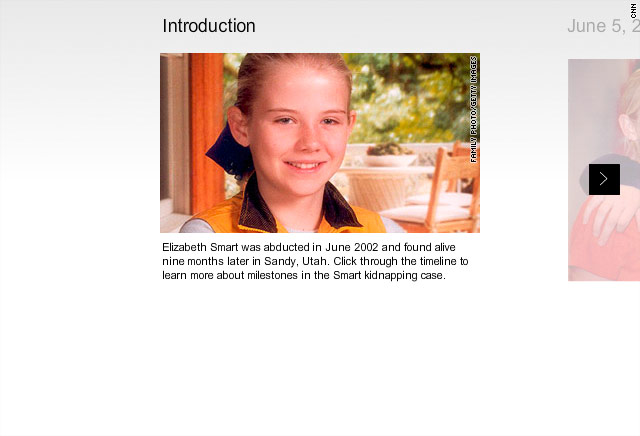 Timeline: Elizabeth Smart case

Elizabeth Smart describes kidnapping

Elizabeth Smart kidnap trial resumes
Smart said she was handcuffed and placed in the back of a police car. At first, she said, she thought she had done something wrong. She still did not tell officers who she was because, she said, she believed Mitchell would make good on his threats to kill her and her family if she did.
Then, she said in a soft voice, it began to dawn on her:
"This is it. I'm done. This is it ... This is over."
At the police station, she took off the disguise she wore -- a gray wig and sunglasses -- and finally admitted she was, indeed, Elizabeth Smart. Her father, Ed Smart, soon arrived.
"How did you feel?" Assistant U.S. Attorney Felice Viti asked.
"I was so happy," came Smart's barely audible reply as court ended for the day.
Smart, who turned 23 last week, stepped off the witness stand and walked over to her parents, who hugged her.
Mitchell, 57, is on trial in federal court, charged with kidnapping and taking a minor across state lines for sex. If convicted, he faces life in prison. His defense attorneys do not dispute what happened, but why. They say Mitchell was insane and cannot be held criminally responsible for his actions.
Although Mitchell claimed to be a prophet who received revelations directly from God and was destined for celestial glory, many of the details of his life, as described by Smart, were earthly and banal.
He and Barzee squabbled, over her jealousy of Smart and his drinking. He had a taste for pornography and boasted about his sexual prowess and his ability to outsmart other people. When he panhandled, he often was scathing in his criticism of the people who gave him money, Smart said.
She appeared weary at times as she told the story of the experience that abruptly ended her childhood and left her feeling "marked."
She was 14 when she was snatched from her bed at knifepoint early on June 5, 2002. She was taken to a makeshift camp in the mountains above her home and "sealed" in marriage to Mitchell in a ceremony he performed himself, with Barzee standing by.
Smart turned 15 in captivity. She said Mitchell bought her a candy bar to celebrate the occasion. He then raped her in his tent, which he called "Immanuel's Altar," she said.
She was forced to smoke and drink, she said, and was shown pornography. In Lakeview, California, she said, she and Barzee went a week without food while Mitchell was in jail. They grew so weak they could barely walk the five feet to the bucket they used as a toilet.
Smart told the jury about other, failed kidnapping attempts as Mitchell searched for child brides to "plunder," as he put it. One involved her cousin, and another the 12-year-old daughter of a Mormon church leader in California. Mitchell later said God didn't believe they were ready to "receive" another wife, Smart testified.
There also were close calls that, had Smart been identified, would have brought her home earlier.
Earlier in the day, she testified about an encounter with a police detective at the public library in Salt Lake City during the fall of 2002. She, Mitchell and Barzee were there to look up information about San Diego because Mitchell said he had received a revelation to look for a wife there.
"The man introduced himself as a homicide detective. He wanted me to remove the veil so he could see my face," said Smart. She recalled Barzee's hand clenching her leg and interpreted it as a warning not to say or do anything.
Mitchell returned from the men's room and stood between Smart and the detective, who told them police had received some calls, and that he was looking for Elizabeth Smart, she said. But Mitchell told him that the girl was his daughter and that their religion dictates that only her husband can see her face.
The detective left, Smart said, and "I felt like hope was walking out the door."
"I was so mad at myself that I didn't say anything," she said. "I was mad at myself for not taking the chance. I felt like it was so close. I felt terrible that the detective could just walk away."
Afterward, she said, Mitchell made her wear a veil covering her eyes, telling her "the world wasn't ready for the light that was in my eyes." The encounter with the police officer also hastened his efforts to travel to San Diego.
Months later, as they hitch-hiked back to Utah, there was a second encounter with a police officer, this time in a fast-food restaurant in Las Vegas, Nevada. But that officer was searching for another missing child, a little boy.
Smart said Mitchell sought to destroy her ties with the past and create a new identity for her as the bride who would shape his destiny to destroy the Antichrist and help usher the Second Coming of Jesus Christ. He renamed her "Shiridashi," the name given the wife of Isaiah's son in the Bible.
She was ordered to destroy the red silk pajamas she wore on the night she was abducted. She explained that Mitchell said "the time had come that I needed to sever all ties with the world, and that meant my family as well."
She said he let her choose the method, and she chose to burn them. Mitchell also took her tennis shoes away, she said.
A small piece of the sole had begun to peel off one of the shoes, Smart testified, and she ripped it off and kept it. She also retrieved a safety pin that he had used to fasten her pajama top and kept it.
"I didn't want to let go of my family, of my life," Smart said.
In Session's Jean Casarez and Lena Jakobsson contributed to this report.
FOLLOW THIS TOPIC