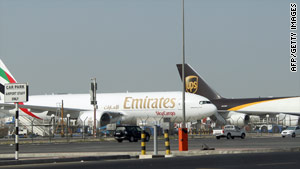 Airliners wait at Dubai Airport after a parcel bomb was intercepted in Dubai originating in Yemen.
STORY HIGHLIGHTS
Experts say 100 percent screening doesn't ensure safety
Corruption is a problem to any security strategy, says expert
Many firms say additional scanning costly, unnecessary
New York (CNN) -- As government officials around the globe scramble to tighten air cargo safety after the recent discovery of two bombs in the UPS and FedEx transportation networks, an extra worry is now thrown into the security equation: bribery.
A major freight forwarder, Panalpina, based in Switzerland, Thursday admitted it had paid thousands of bribes from 2002 to 2007 to government officials in at least seven countries: Russia, Nigeria, Angola, Azerbaijan, Brazil, Kazakhstan, and Turkmenistan.
In settlements with the Department of Justice and the Securities and Exchange Commission, Panalpina agreed to pay nearly $82 million in penalties.
"The settlement of these claims marks the closing of an extremely burdensome chapter in Panalpina's history and the end of a very demanding three-year effort to address and eliminate serious concerns," said Panalpina CEO Monika Ribar. The company says it has reformed so that, "Our guiding principle is to act in an ethical manner and to comply with all laws and regulations in the over 80 countries in which we operate."
Panalpina paid the bribes to avoid inspection, documentation requirements and customs duties. Experts warn such payoffs could create the hole in the security screen that permits an explosive to get onto an aircraft.
"Corruption is a problem to any security strategy. It can certainly undermine the various elements of a comprehensive strategy," said Jay Ahern former commissioner of U.S. Customs and Border Protection and a principal at Chertoff Group, a strategic risk management and security advisory firm.
California-based Con-way two years ago paid $300,000 to settle SEC charges that a former subsidiary it controlled had bribed Philippine customs officials to skirt rules on storing shipments. The company neither admitted nor denied guilt.
"We have in place robust procedures, policies and training programs to prevent violations of the Foreign Corrupt Practices Act. To the extent we hire transportation providers we work closely with them to ensure effective security practices," said Gary Frantz, director of communications at Con-Way Inc.
Some members of Congress, most notably Rep. Edward Markey, D-Massachusetts, are calling for 100 percent scanning of freight aboard all-cargo aircraft, to supplement the new requirement that all packages aboard passenger flights be scanned.
But Ahern and other experts argue the "bribe factor" raises concern that technology could be bypassed through illegal payoffs.
"One hundred percent scanning does not equal 100 percent security," said Ahern.
Far more important, they say, is strengthening intelligence-based security procedures, the kind of digging that uncovered the bombs found on a UPS plane in Britain and at a FedEx warehouse in Dubai.
"Given the extraordinary array of vulnerabilities, security is always a matter of developing multiple layers and allocating resources that best mitigate the risk," said Stephen Heifetz, an attorney and former official at the Department of Homeland Security. "One hundred percent provisions generally make people think you eliminate it. It's illusory."
Some air forwarders -- particularly smaller ones -- say scanning cargo is simply an added expense to their business which adds little to security since they work only with established clientele and often pack the shipments themselves.
"The whole TSA program creates redundancy, extra expense and unnecessary paperwork," complains Racine Berkow who ships fine art and museum exhibits. "For what I do, it's really unnecessary."
Small shippers like Berkow say too many layers of security could even put them out of business. Business viability, combined with the risk of bribes, say experts, are reasons that good intelligence is as important -- if not more so -- than technology in improving cargo security.
Watch The Situation Room with Wolf Blitzer weekdays at 4pm to 6pm ET and Saturdays at 6pm ET. For the latest from The Situation Room click here.
FOLLOW THIS TOPIC