Man missing on border lake eulogized in Colorado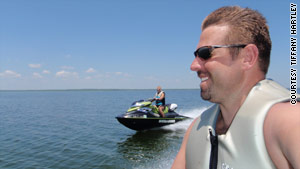 David Hartley was allegedly killed by gunmen for a Mexican drug gang at a lake on the U.S.-Mexico border.
STORY HIGHLIGHTS
NEW: Hartley "stood tall" to protect his wife, pastor says
David Hartley was reported shot and killed in September on Falcon Lake
His body has not been found, and a key Mexican investigator has been killed
(CNN) -- Nearly seven weeks after David Hartley's reported slaying on a U.S.-Mexico border lake, family and friends gathered in a Colorado church Sunday to eulogize him as a loving husband and an adventurous free spirit.
Speaker after speaker took to the stage at a church in Fort Collins, about 50 miles north of Denver, to recount stories of the 30-year-old oilworker who always "made the day a lot more fun," as a high-school friend recounted.
"He loved life and lived it to the fullest," his sister-in-law, Tia Young, told the crowd at Timberline Church in Fort Collins. "He was always looking for a new adventure to take with his wife. Now he's taking the greatest adventure of all."
And co-worker Brad Hunter said Hartley could always be distinguished by "the smile on his face, the toothpick in his mouth and the little glint in his eye that he was up to something."
"This memorial is not goodbye," Hunter said. "It's 'see you later.' We know where he's at. We just have to wait a while to see him again."

Falcon Lake memorial
With Hartley's bright-yellow Indian motorcycle as a backdrop, speaker after speaker recounted Hartley's passion for the outdoors and for history. Those passions led Hartley and his wife Tiffany across Falcon Lake on September 30 to visit a half-submerged Mexican ghost town, and they were ambushed by gunmen believed to be in the pay of Mexican drug cartels on their way back, Tiffany Hartley has told authorities.
Tiffany Hartley told authorities her husband was shot in the head, and she was unable to haul his body onto her personal watercraft before being forced to flee. His body has yet to be recovered despite extensive searches by both U.S. and Mexican authorities, and the lead investigator on the Mexican side of the case was found decapitated about two weeks into the probe.
Tiffany Hartley: 'He took a bullet for me'
Addressing Tiffany Hartley, Timberline pastor Chris Johnson said Hartley "stood tall between you and danger" and was taken "by people who displayed the worst part of this world."
"In what seems to be the worst of times -- when we don't understand, when our heart hurts, when we miss somebody, when it doesn't make sense at all -- God will turn it into something great when we put it in his hands," Johnson said.
Tiffany Hartley, who has become known as the widow of pirate lake, has since moved back to Colorado from McAllen, Texas, as friends said the couple had planned to do before the attack. But the family has said that her return does not signal an end to their search for justice.
At Sunday's service, Hartley's family was presented with a flag that was flown in the missing man's honor at the Texas capitol in Austin.
"David's life was blessed, and he was a huge blessing to everyone who knew him," Young said.
FOLLOW THIS TOPIC