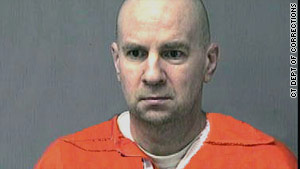 Steven Hayes may receive the death penalty for his role in the slayings of two sisters and their mother.
STORY HIGHLIGHTS
NEW: Total deliberation time now stands at more than 16 hours
NEW: Jurors retire Sunday with no decision
Life in prison "is a fate worse than death," Steven Hayes' lawyer says
Hayes and another man are accused in the deaths of a woman and her two daughters
New Haven, Connecticut (CNN) -- Jurors in Connecticut deliberated throughout the day Sunday to determine whether to sentence to death a man convicted of killing two sisters and their mother in a brutal 2007 home invasion.
The five men and seven women decided about 4:15 p.m. Sunday to retire for the evening without deciding the sentence of Steven Hayes, who was convicted in the killings. He faces life in prison or the death penalty.
Jurors have deliberated a total of about 16 hours over three days. Earlier, Judge Jon Blue told the panel it could not stay much past 5 p.m. Sunday unless jurors felt they were close to a verdict.
Saturday, the jury sent a note requesting a read-back of some of the testimony of Dr. Eric Goldsmith, a psychiatrist who had said Hayes was impaired at the time of the crimes and experienced extreme rage. Goldsmith was a witness for the defense.

Death penalty for defendant?

Petit dad: My family is still gone
On Friday, the jury asked Blue for clarification of the statute regarding mitigating factors -- evidence presented that would provide a reason for a sentence less than death. "How do we fill out the form?" the jurors asked.
Blue instructed the panel members that they could not go into the second phase -- determining whether the prosecution has proven the aggravating factors -- until they were unanimous about whether there were mitigating factors.
Hayes' lawyer has told jurors his client would suffer more if given a life sentence.
"Life in prison without the possibility of release is the harshest penalty," Tom Ullmann said. "It is a fate worse than death."
Ullmann asked his 47-year-old client to stand in front of the jury. He put his hand on Hayes' shoulder and said to the jurors, "He isn't a rabid dog that needs to be put to death. He has lost 80 pounds. He will never have a private bath. He goes to the bathroom in public. He will never eat a dinner that he makes, but one that they provide. He has a rec cage for an hour a day. Like an animal at the zoo."
As he stood, Hayes -- who did not testify during the trial -- looked at the floor.
"If you want to end his misery, put him to death. ... If you want him to suffer and carry that burden forever, the guilt, shame and humiliation, sentence him to life without the possibility of release," his lawyer said.
Prosecuting attorney Michael Dearington persuaded jurors to order Hayes be executed for his role in the deaths of Jennifer Hawke-Petit, 48, and her daughters, Hayley Petit, 17, and Michaela Petit, 11.
"We cannot tie Steven Hayes to a bed, pour gasoline on him and set him on fire," Dearington said, referring to the killings. "But under our laws, we do have the death penalty."
He added that the Petit family had been "destroyed because Steven Hayes wanted money."
A psychiatrist testified last month that Hayes had told him he would rather be executed.
The high school dropout said he had a long history of substance abuse, the psychiatrist said.
But Dearington said that should not be an excuse for the murders.
"Drugs don't necessarily lead to violent crimes," he said.
Hayes was convicted last month of 16 of the 17 charges against him, including nine counts of murder and capital murder, and four counts of kidnapping.
Prosecutors allege that Hayes and Joshua Komisarjevsky invaded the Petit home in Cheshire, Connecticut; beat Dr. William Petit; raped and strangled his wife, sexually molested one of their daughters; set the house afire; and tried to flee.
The girls died of smoke inhalation. Their father escaped to a neighbor's home.
Komisarjevsky will be tried separately.
In Session's Sunny Hostin and Nancy Leung contributed to this story.
FOLLOW THIS TOPIC