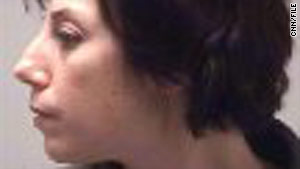 Rebecca Allwine was arrested after police found 18 partially dissolved pills in her husband's drinking glass.
STORY HIGHLIGHTS
Teacher retained her position after being accused of trying to poison her husband
Rebecca Allwine "should have been pulled out of there," one parent says
"If I don't know the whole story, I can't judge," says another
Atlanta, Georgia (CNN) -- A second-grade teacher in Sharpsburg, Georgia -- arrested this year for allegedly trying to poison her husband -- retains her position despite having pleaded guilty to lesser charges.
Rebecca Allwine, now 34, was arrested January 31 after her husband, Joshua, called police to their house in nearby Newnan -- about 30 miles southwest of Atlanta -- and said his wife poisoned him with his own medications, according to a police report.
One of them was Ambien, a prescription sedative used to treat short-term insomnia. It can prove fatal in large doses. The other was melatonin, a naturally occurring substance that is sold without a prescription as a dietary supplement. It helps control sleep/wake cycles.
The couple had been drinking, according to the police report, and were arguing about Joshua supposedly having gone to his girlfriend's house that day.
"She willingly stated that she struck Joshua numerous times in the head and neck area," the report says, "and that Joshua did not strike her in any way."
The report adds that the teacher then went upstairs, where she saw her husband's Ambien and melatonin tablets on a bedside table. "She stated that she took all of the medication and placed it in Joshua's drink to avoid the children getting around the medication. She later changed her story stating that she really put the pills in his drink because she knew he was dependant [sic] on the medication to sleep, and that she did not what him to go to sleep."
Allwine's husband, a self-employed landscaper in Newnan, then went upstairs and returned soon after holding the glass containing what was left of the pills and talking to a 911 operator, the report said.
The police officer who was sent to the house said he counted "approximately 18 partially dissolved pills in a glass that were later identified as melatonin. Joshua advised he had approximately 10 Ambien left before the incident occurred, and there were no Ambien in his prescription bottle."
His wife was then arrested for battery and aggravated assault.
Though initially charged with a felony, Allwine pleaded guilty this week to disorderly conduct, a misdemeanor, the Newnan Times-Herald reported.
In a written statement, Coweta County School System spokesman Dean Jackson defended the decision to leave Allwine in her job at Willis Road Elementary School.
"Mrs. Allwine was forthcoming with her principal and the school system from the beginning about the domestic matter and the charges involved," he said. "The school and school system were continuously informed of the proceedings, and the issue was reported by the system to the Georgia Professional Standards Commission."
Julie Smith, who owns a human resources consulting business in Atlanta called Custom Human Resource Solutions, said the school system may not have been able to dismiss Allwine.
"Legally, they can't terminate based on a misdemeanor," she said in a telephone interview. "It's got to be a felony conviction."
That rankled Bob Bowdon, an education expert.
"It's another 'Thank you, tenure,'" he told HLN's "Prime News." "Despite the teacher unions' refrain to be 'treated like professionals,' these are the moments when it becomes clear they also demand job guarantees that no other professionals have. How long would a CEO, a lawyer or a broadcast journalist get to continue their employement after admitting to poisoning his/her spouse? I think we all know."
Some parents have expressed disbelief.
"This has really floored me, I'm really shocked," Frankie Davis, whose daughter attends Willis Elementary, told CNN affiliate WSB. "Until she was found guilty or not guilty, she should have been pulled out of there."
But Melissa Jacobson, whose daughter Ansley was in Allwine's class last year, defended the teacher as dedicated and willing to work extra hours without compensation.
Still, she said, "I would have liked to have been told -- to make the decision for myself whether or not I felt comfortable to keep her in the classroom, but had I been given that choice, I would have kept her in the classroom."
She added, "I'm just a big believer in that, if I don't know the whole story, I can't judge."
Rebecca Allwine did not immediately return an e-mail; CNN was not able to reach Joshua Allwine.
FOLLOW THIS TOPIC