Court turns aside Georgia death row inmate's appeal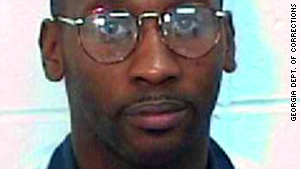 Troy Davis has always maintained his innocence in the 1989 shooting death of a Savannah, Georgia, police officer.
STORY HIGHLIGHTS
The court says Troy Davis should instead petition the U.S. Supreme Court
It is unclear whether Davis is aware of Friday's court ruling
His family "is not going to give up," his sister says
(CNN) -- A federal appeals court panel deflected a condemned Georgia inmate's appeal of a ruling that denied him a new trial in a decades-old murder case, saying Friday that the appeal should have gone to the U.S. Supreme Court instead.
The inmate, Troy Davis, faces execution for the 1989 killing of off-duty Savannah police officer Mark MacPhail.
The three-judge panel said the 11th U.S. Circuit Court of Appeals was not the correct place for Davis' petition.
It is unclear whether Davis, who has always maintained his innocence, was immediately aware of Friday's court ruling.
Davis' case has had a dramatic series of ups and downs. He was granted a stay of execution by the high court two hours before he was to be put to death in 2008, and the court in 2009 ordered the federal district court to take another look at the case.
That court, after holding a hearing to review evidence, ruled that Davis "failed to show actual innocence" in the case, the appeals court said Friday. The district court suggested that, for procedural reasons, Davis should take his appeal of its ruling directly to the Supreme Court.
Davis ended up filing with both the 11th Circuit and the Supreme Court, seeking what is known as a "certificate of appealability," Friday's ruling said. The Supreme Court has not yet responded.
The 11th Circuit said Friday it agrees with the district court that the Supreme Court is the correct place for the filing.
Davis' sister, Martina Correia, told CNN on Friday that the family is hoping the Supreme Court will settle the question. "Nobody knows which court this appeal should go to," she said.
But she said she "is very hopeful" and "is not going to give up."
Witnesses testified at trial that Davis, then 19, and two others were harassing a homeless man in a Burger King restaurant parking lot when the off-duty officer arrived to help the man. They said Davis then shot MacPhail twice and fled.
No physical evidence was presented linking Davis to MacPhail's murder, and since his 1991 conviction, seven of the nine witnesses against him have recanted their testimony.
Prominent figures ranging from the pope to the musical group Indigo Girls have asked Georgia to grant Davis a new trial.
Other supporters include celebrities Susan Sarandon and Harry Belafonte; world leaders such as former President Jimmy Carter and former Archbishop Desmond Tutu; and former and current U.S. lawmakers Bob Barr, Carol Moseley Braun and John Lewis.
CNN's Tristan Smith contributed to this report.