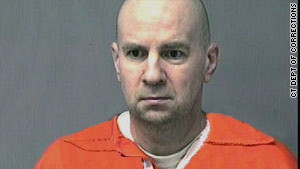 Steven Hayes' lawyer says jurors would "end his misery" if they sentence him to death.
STORY HIGHLIGHTS
"It is a fate worse than death," Steven Hayes' lawyer says
Hayes and another man are accused in deaths of woman, two daughters
Prosecutor calls for execution: "We do have the death penalty"
New Haven, Connecticut (CNN) -- The man who killed two sisters and their mother during a 2007 home invasion in Connecticut would suffer more if sentenced to life in prison than if put to death, his lawyer told jurors Thursday.
"Life in prison without the possibility of release is the harshest penalty," said Steven Hayes' attorney, Tom Ullmann. "It is a fate worse than death."
Ullmann then had his 47-year-old client stand directly in front of the jury, put his hand on Hayes' shoulder and said to the five men and seven women, "He isn't a rabid dog that needs to be put to death. He has lost 80 pounds. He will never have a private bath. He goes to the bathroom in public. He will never eat a dinner that he makes but one that they provide. He has a rec cage for an hour a day. Like an animal at the zoo."
As he stood, Hayes -- who did not testify during the trial -- looked down at the floor.
His lawyer continued, "If you want to end his misery, put him to death. ... If you want him to suffer and carry that burden forever, the guilt, shame and humiliation, sentence him to life without the possibility of release."
But prosecuting attorney Michael Dearington sought to persuade the jurors to order Hayes be executed for his role in in the deaths of Jennifer Hawke-Petit, 48, and her daughters, 17-year-old Hayley Petit and 11-year-old Michaela Petit.
"We cannot tie Steven Hayes to a bed, pour gasoline on him and set him on fire," Dearington said, referring to the killings. "But under our laws, we do have the death penalty."
He added that the Petit family had been "destroyed because Steven Hayes wanted money."
Superior Court Judge Jon Blue then read a 36-page charge and verdict form to the jury, which is to begin deliberating Hayes' sentence Friday morning.
A psychiatrist testified last month that Hayes had told him, "I would rather they kill me," reflecting Hayes' apparent hope that he'd be executed.
The high school dropout said he had a long history of substance abuse, the psychiatrist said.
But Dearington said Thursday that that did not excuse the murders. "Drugs don't necessarily lead to violent crimes," he said.
Hayes was convicted last month of 16 of the 17 charges against him, including nine counts of murder and capital murder and four counts of kidnapping.
Prosecutors allege that Hayes and Joshua Komisarjevsky invaded the Petit home in Cheshire, beat
Dr. William Petit, raped and strangled his wife, Jennifer Hawke-Petit, sexually molested one of their two daughters, set the house afire and tried to flee. The girls died of smoke inhalation; Petit himself escaped to a neighbor's home.
Komisarjevsky is to be tried separately.
In March, Hayes said he no longer wanted to commit suicide "but intended to let the state do it," a psychiatrist testified last month.
In Session's Sunny Hostin and Nancy Leung contributed to this story.
FOLLOW THIS TOPIC