FBI: Gunfire at Virginia recruiting center linked to other incidents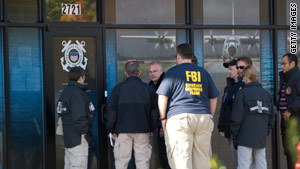 FBI officials investigate a shooting at a Coast Guard recruiting station in Woodbridge, Virginia.
STORY HIGHLIGHTS
Tests link the Coast Guard shooting to others in Washington area, FBI says
No one was injured in Tuesday's incident
Shots have also been fired at Marine Corps museum, recruiting station
Bullets hit Pentagon early October 19
Washington (CNN) -- Ballistic tests have linked a shooting at a Coast Guard recruiting office in Virginia to four other shootings at military facilities last month, the FBI said Wednesday.
FBI spokesman Andrew Ames provided no other immediate details.
The latest incident was reported Tuesday morning after a bullet struck the recruiting office, housed in a Woodbridge strip mall.
The description was "relatively similar" to October cases in which shots were fired at the Pentagon, the National Museum of the Marine Corps and a vacant Marine recruiting station, said 1st Sgt. Kim Chinn, spokeswoman for Prince William County police.
"Employees of the Coast Guard recruiting station called to tell us there was some damage to the glass, and police arrived and determined it was probably done by a bullet," Chinn said.
No one has been injured in any of the incidents, including when six shots were fired at the Pentagon early on October 19.

FBI: Shootings at stations linked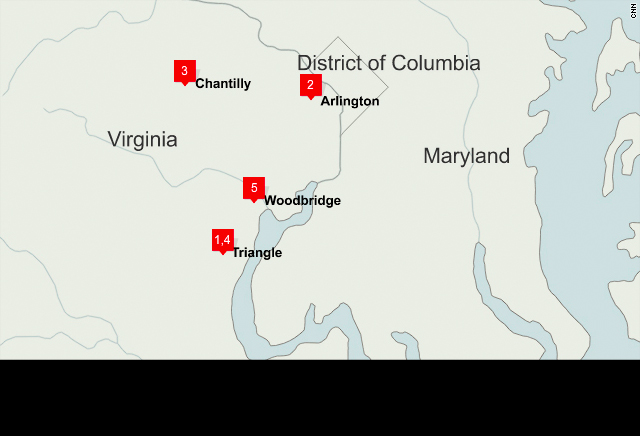 Map: Shootings near D.C.
Ballistics tests connected the Pentagon gunfire to shots aimed at the Marine museum on October 17 and 29, as well as to an October 25 case in which shots were fired at a Marine Corps recruiting station in Chantilly, near Washington Dulles International Airport.
Chinn would not say how many bullets were found at the scene Tuesday. The Coast Guard referred questions to the FBI, saying it is taking the lead in the investigation.
The Pentagon Force Protection Agency declined comment on the shooting.