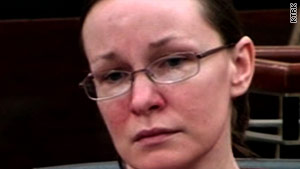 Susan Wright claimed she was a battered spouse. Prosecutors called the case "divorce by homicide."
STORY HIGHLIGHTS
Susan Wright is resentenced to 20 years in prison for her husband's stabbing death
Jeffrey Wright was stabbed some 200 times, then buried in the back yard
Susan Wright claimed she was abused by her husband
Prosecutors said it was a case of "divorce by homicide"
Houston, Texas -- A Houston woman known as the "blue-eyed butcher" was resentenced Tuesday to 20 years for stabbing her husband some 200 times.
Susan Wright was convicted of first-degree murder in 2004 in the stabbing death of her husband, Jeffrey Wright. According to testimony, she buried the body in the backyard of their Houston-area home.
The same jury that convicted Wright sentenced her at the time to 25 years in prison, but an appeals court overturned her sentence last year, saying her attorneys had bungled the case.
A new jury was seated last month to determine Wright's punishment, with possible punishments ranging from community supervision to life behind bars.
During more than two weeks of dramatic testimony, family members, Jeffrey Wright's ex-girlfriends, and neighbors of the Wrights squarely divided over whether the 34-year-old victim was a loving family man or a violent, cocaine-fueled abuser.
A medical examiner testified he was able to count 193 wounds on the body, with the actual number of stab wounds well in excess of that. Defense attorneys claim Wright killed in the heat of passion after years of beatings and rapes.
Prosecutors argued Wright was tired of married life, and angry at her husband's drug use and frequent late nights out. "This was not a battered woman -- this was divorce by homicide," said Assistant District Attorney John Jordan during his closing argument on Monday. He asked jurors to sentence Wright to no less than 45 years behind bars.
Among the witnesses not called in the 2004 trial was psychologist Jerome Brown, who interviewed Wright days after the killing. Brown diagnosed Wright with Post Traumatic Stress Syndrome, and told jurors last week she was in a "dissociative state" while attempting an elaborate cleanup after the killing.

2004: 'Blue-eyed butcher' sentenced
Brown also testified that Wright told him her husband was asleep when she retrieved a knife from their kitchen and began to stab him. This differs from Wright's tearful testimony at her original trial, when she said she killed her husband in self-defense after he stood over her with the knife and said "Die, bitch!"
Prosecutors have scoffed at the idea that the 5'4", 120-pound defendant could have overpowered her 6'2", 220-pound husband, and argued to the jury she tied him to their bed before killing him. They also suggested she may have drugged him with gamma-hydroxybutyric acid, known as the "date-rape drug," low levels of which were found in Jeffrey Wright's system.
Because Brown didn't testify in 2004, prosecutors did not have access to his notes. Last week, however, Jordan questioned Brown about the discrepancy in the defendant's stories and about a telephone call from her original defense attorney, Neal Davis, on the eve of the trial. Davis had just read Brown's notes and realized they were detrimental to his client's claim of self-defense. The call was tape-recorded by Davis.
Brown admitted he responded with an expletive, and then said, "I'll take a look at my notes and see if there's any way to get around that problem."
Also new on the witness stand were two former girlfriends of the victim, whose colorful testimony drew occasional laughter. Misty McMichael testified Wright beat her repeatedly during their two-year relationship and tried to control her every move.
Prosecutors called the woman's story a blend of fiction and exaggeration, disputing her claims Wright that threw her down a staircase 104 times and kept her locked in a room above his family's flooring business. As she sparred verbally with prosecutor Connie Spence, the judge scolded McMichael, saying she was turning the hearing into "a circus."
Another woman, Marcy Holloway, came forward to prosecutors only recently, and testified last week that Wright was a patient, caring boyfriend with whom she broke up only because "I could not handle being with a man better looking than myself."
Wright's new defense attorneys argued that she has been punished enough, and asked for probation. "Her bedroom was a hell chamber. Her house was a prison. She's been in the penitentiary," said Jonathan Munier, adding that Wright has also signed away her parental rights. The Wrights' two children have been adopted by Jeffrey Wright's brother.
"He's the damn devil," continued Munier. "And how do you kill the devil? You can't. He's still here, still tormenting her. What more can she lose?"
Wright was given a chance to address the victim's family after the verdict was announced. "I just want you to know that I'm sorry. I'm sorry he's not here," she said softly. "I'm sorry you don't have your son, and your brother."
The five women and seven men deliberated for more than 10 hours over two days. Wright will be eligible for parole in 2014.
FOLLOW THIS TOPIC