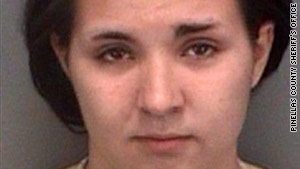 Jennifer Mee, 19, was diagnosed with Tourette Syndrome in 2007, her attorney said.
STORY HIGHLIGHTS
Lawyer says murder suspect was diagnosed with Tourette Syndrome
"We're looking into seeing whether or not that may be relevant"
Neurologist rejects the possibility of a link
Lawyer says he's received "hate e-mails" over claims
(CNN) -- The lawyer for the Florida teenager who gained fame three years ago as the "hiccup girl" and is now accused of murder said Wednesday that he will look into whether Tourette Syndrome or another brain disorder may have contributed to the crime.
Jennifer Mee, now 19, was diagnosed with the disorder in 2007, after her nonstop hiccups of more than a month's duration catapulted her onto talk shows and into the public consciousness, lawyer John Trevena said.
"We're looking into seeing whether or not that may be relevant to her case," he said. "She has other conditions, too, and those may very well play a role in the case."
He cited "lower-level intellectual functioning" -- identified when she was in grade school -- as among those other conditions. "She has difficulty with basic literacy: reading and writing," he said.
Trevena said he would ask that a scan be carried out to see whether Mee has any brain damage. "There's going to be a battery of neuropsychiatric tests that will have to be conducted, because we do need answers as to whether these various conditions she has may have contributed," he said.
Mee and two male housemates -- Laron Raiford and Lamont Newton -- were arrested and charged October 24 with first-degree felony murder in the slaying of Shannon Griffin, 22.
About 10 p.m. the previous night, Griffin told relatives that he was heading out to meet a woman he had recently met online. He took his scooter to a vacant house where he and Mee met, police said.
She lured him to the rear of the house, where Raiford and Newton were armed and waiting, police said.
Griffin was shot several times with a .38-caliber revolver while struggling in what the suspects have described as a robbery gone awry, police said.
Authorities said they do not believe that Mee or Griffin, a Wal-Mart employee who had recently moved to Florida from the Gulf Coast, had known each other before their online encounter, nor do they believe Mee pulled the trigger.
All three suspects admitted their involvement, police said.
"He just thought he was going on a date," Griffin's cousin and housemate Douglas Bolden said Tuesday during a bail hearing for Mee. "Just a young kid grinning ear to ear about to go on a date, just as happy as can be. And I wave him off, and I never knew it would be the last time I would see him."
In a posting on its website, the Medical Advisory Board of the Tourette Syndrome Association rejected the possibility that the disorder could be linked to the crime.
"In truth, the diagnosis of Tourette Syndrome in a legal offender is no more the reason for, or an excuse for such offense than other medical diagnoses -- such as asthma or rheumatism," said the statement for the association, which seeks to reduce the stigma associated with the disorder.
"Scientifically, there is no evidence of a causal relationship between having Tourette Syndrome and criminal behavior."
Trevena, who said he has received "a lot of hate e-mails from Tourette's people," defended his quest when told of the association's statement.
"I think it's irresponsible and reckless to say that until we know exactly how the Tourette's will be relevant, and that's going to take a lot of expert study and evaluation," he said.
"It's far too early to say that there is a connection, but it's equally too early to say that there is no connection. All I've said publicly about the Tourette's is that she has it, and I have suggested that we're looking into seeing whether or not that may be relevant to her case."
He added that neurological conditions may not necessarily cause criminal behavior but could nevertheless prove to be mitigating factors, just as pregnancy is sometimes considered a mitigating factor when a pregnant woman commits a crime.
"You're not suggesting that the pregnancy is the cause of the homicide, but it's certainly a factor for the court to consider," he said.
The lawyer's argument did not convince Dr. Jonathan Mink, a professor of neurology at the University of Rochester in New York. "If he were to ask me if her syndrome were relevant, I would say, as a Tourette expert, that it is not," he said.
According to the National Institute of Neurological Disorders and Stroke, Tourette Syndrome is a brain disorder characterized by repetitive, stereotyped, involuntary movements and vocalizations called tics.
It is named for Dr. Georges Gilles de la Tourette, the French neurologist who first described the condition in 1885.
About 200,000 Americans suffer its most severe form, and as many as one in 100 show milder symptoms, the institute said.
Drugs can ease the symptoms, but there is no known cure.
Though hiccups can be a symptom of Tourette Syndrome, "It's a very uncommon form of tic," Mink said, adding that multiple tics are required for a diagnosis.
He cited a news story in which Mee told a reporter that she had no other symptoms. "In the absence of other symptoms, it's hard to say she had Tourette Syndrome," he said.
Though some people with the disorder do have trouble with impulse control, "This is not a disorder that leads to violent behavior, and that is not a part of the syndrome," Mink said.
On Tuesday, Trevena asked Pinellas County Acting Circuit Court Judge Donald Horrox that Mee -- who is being held in Pinellas County Jail -- be released on $50,000 bail. The judge is to rule Friday.
During the hearing, as Mee stood sobbing before him in court, she began hiccupping. "It comes back," Trevena said, though for shorter periods of time.
FOLLOW THIS TOPIC