Alternate juror in home invasion case chastised for flirtatious note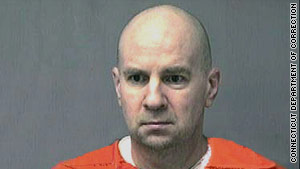 Jurors are deciding whether Steven Hayes will get the death penalty for the murders of a woman and her daughters.
STORY HIGHLIGHTS
Alternate juror asks marshal to meet her at a restaurant
Juror tells judge incident has not affected her impartiality
New Haven, Connecticut (CNN) -- In a rare diversion during a case that has seen heart-wrenching testimony, a Connecticut judge on Monday chastised a juror for passing a note to a court marshal asking him for a date.
The note, written by an alternate juror in the case of Steven Hayes and passed to the marshal by a second juror as court ended Friday, asked him to meet her Sunday at a restaurant.
Judge Jon Blue said he received a call from the court clerk that a "middle school note" had been given to the marshal. The marshal was innocent of wrongdoing, he said.
The jurors will decide whether Hayes will get the death penalty for a 2007 home invasion in Cheshire, Connecticut, a suburb of New Haven, in which Jennifer Hawke-Petit and her two daughters, 17-year-old Hayley Petit and 11-year-old Michaela Petit, were killed. Hayes was convicted of capital murder and other charges in the case last month.

Video: Petit dad: My family is still gone

Video: Death penalty for CT murders?
The alternate juror was called to the witness stand and questioned. She maintained the incident had not affected her impartiality in deciding Hayes' fate or her ability to pay attention to testimony. Blue noted that the juror is needed, as other jurors have been dismissed throughout the trial.
Blue told the alternate juror he is "a romantic at heart," but not in the courtroom, and said sending the note was a "goddamn dumb thing to do."
Hayes' defense attorneys, who are attempting to sway jurors to spare his life, asked that the juror be removed, but Blue refused to do so.
The defense rested Monday in the penalty phase of the case, and jurors were dismissed so both sides could review documents Monday afternoon. The state will present three rebuttal witnesses on Tuesday, and closing arguments will be held later in the week.
FOLLOW THIS TOPIC