School district ordered to pay legal fees for lesbian student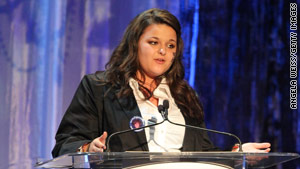 Constance McMillen was told by her Mississippi high school that she couldn't bring her girlfriend to the school's prom.
STORY HIGHLIGHTS
The lawsuit was settled in July
The school district has already agreed to pay the student $35,000 in damages
The prom was eventually canceled
(CNN) -- A federal judge has ordered a Mississippi school district to pay about $81,000 in legal fees and expenses in a lawsuit filed by a lesbian student who was told she would be ejected from a prom if she brought her girlfriend.
The decision Tuesday by a federal judge may be the final chapter in the well-publicized legal battle between a lesbian teenager and the Mississippi school district.
The lawsuit against the school district in Fulton, Mississippi, was filed by the ACLU on behalf of Constance McMillen. The lawsuit was settled in July, and the school district agreed to pay McMillen $35,000 in damages and adopt a policy prohibiting discrimination based on sexual orientation. The July settlement was not part of the $81,000 payment ordered by the judge Tuesday.
The issue made national news after McMillen, the lesbian teen, was told by Itawamba Agricultural High School officials she and her girlfriend would be barred from attending the school-sponsored prom.

Video: Gay student warned about prom
The prom was eventually canceled by school board officials.
At the time, support poured in for the teen. She served as the grand marshal for New York's Gay Pride Parade, got a $30,000 college scholarship from an anonymous donor and a Facebook page called "Let Constance Take Her Girlfriend to Prom!" attracted more than 400,000 fans.
FOLLOW THIS TOPIC