Recent shootings raise concerns about Marine Corps Marathon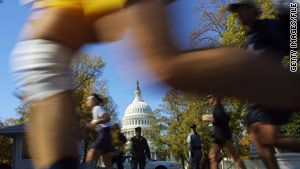 The Marine Corps Marathon, one of the world's largest, starts Sunday at the Pentagon.
STORY HIGHLIGHTS
NEW: DC police chief: We're aware of threats and take them seriously
The marathon Sunday starts and ends around the Pentagon
The shootings have targeted the Pentagon and two other military-related buildings
Security will be provided by Pentagon police and nine other agencies
Washington (CNN) -- The Pentagon is increasing security for this weekend's Marine Corps Marathon and connected events after a recent spate of shootings at military-related buildings.
The Marine Corps Marathon, one of the world's largest, starts Sunday at the Pentagon. It comes less than two weeks after an unknown person shot at the building at least six times with a high-powered rifle.
The two other recent shootings targeted the Marine Corps Museum in nearby Quantico, Virginia, and, earlier this week, a Marine Recruiting Depot in Chantilly, Virginia. The FBI has said the Quantico shooting involved the same high-powered rifle that was used in the Pentagon shooting.
The runners will gather in a Pentagon parking lot before the start and then wind through northern Virginia and the District of Columbia before passing the Pentagon again just before the finish line.
The marathon is not the only event this weekend. The Marine 10K race covers part of the same course and a Kids Fun Run one-mile race will take place Saturday in a Pentagon parking lot.
Terry Sutherland, chief spokesman for the Pentagon Force Protection Agency, said there will be "heightened awareness" around the Pentagon on Sunday. But he didn't want to discuss in detail what extra security steps his department might take to protect the people involved in the race.
Aside from Pentagon police, nine other law enforcement agencies are involved in security for the race. Chief Cathy L. Lanier of the D.C. Metropolitan Police Department also declined to discuss details.
"We are aware of events that have occurred in the D.C. metropolitan area," Lanier said. "We take all threats seriously, and we continue to remain vigilant. However, the Metropolitan Police Department will not discuss certain aspects of operational preparedness for security reasons,"
The Marines Corps provides support for the race in the form of passing out drinks and handling first aid for runners, but their security role is limited to assisting civilian agencies if need be.
Lt. Scott Villiard, a spokesman for the Marines, said the Corps is taking steps to put everybody's safety first and foremost.
FOLLOW THIS TOPIC