STORY HIGHLIGHTS
NEW: One of the first witnesses is a woman who was attacked by the defendant
Defense calls Ingmar Guandique "an easy scapegoat"
Former congressman Gary Condit will testify, prosecutor says
Levy disappeared in 2001; her body wasn't discovered for more than a year
Washington (CNN) -- The trial of a man charged in the 2001 killing of Chandra Levy opened Monday with emotional testimony from a woman who was attacked by the suspect just weeks after the Washington intern's disappearance.
Authorities believe Ingmar Guandique attacked Levy, 24, as she jogged in a park.
In her opening statement, Assistant U.S. Attorney Amanda Haines told the jury that the prosecution will rely in part on the testimony of two other women who were attacked in a similar manner in the same park just weeks after Levy.
Those two managed to escape, but Levy was "running into a dream, into a nightmare," Haines said, "because she's never coming out of the park."
One of those women, Halle Shilling, was among the first witnesses called on the opening day of the trial.
"He was creepy," she testified when asked why she had taken a mental note of a man watching her from a curb as she ran through the District of Columbia's Rock Creek Park.
"His head tracked me as I ran by," said Shilling, who broke down crying several times on the stand.

Video: What happened to Chandra Levy?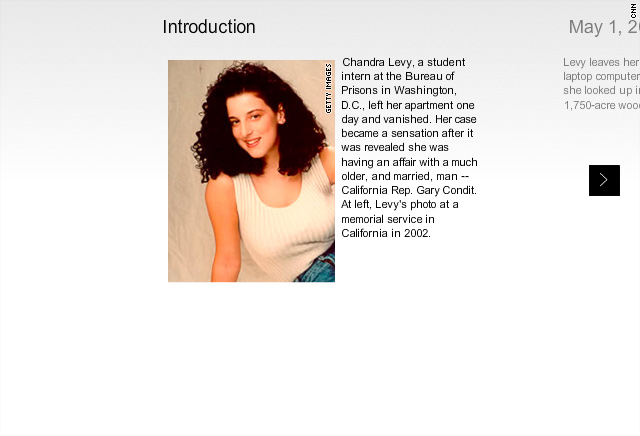 Timeline: Chandra Levy case
About 10 minutes later, Shilling said, she was attacked from behind, and her mental picture of the man seated on the curb "matched the person who was now attached to me."
Guandique was sentenced in 2002 for the attack on Shilling and another woman. Public defender Maria Hawilo on Monday called them robberies for which her client has admitted guilt, and she accused prosecutors of taking those cases and turning Guandique "into an easy scapegoat."
On cross-examination, the defense sought to raise doubts about Shilling's recollection and the similarities between her experience and Levy's attack.
Shilling said she was never pulled from the trail as had happened to Levy, but denied she could have mistaken a bracelet Guandique claimed to have been wearing at the time for what she said was a knife.
When the defense had finished with Shilling, Haines asked her, "Do you have any trouble remembering what happened May 14, 2001?" At that, Shilling again broke down and said emphatically, "No, I don't."
Guandique denies he attacked Levy and there is no physical evidence linking him to the assault, leaving prosecutors to base their case largely on his alleged jailhouse admission that he killed the young intern.
Hawilo focused on the lack of DNA evidence in the case, jumping on Haines' acknowledgment that the only physical evidence consists of about a dozen skin cells found on Levy's jogging tights that don't belong to Levy, Guandique or former Rep. Gary Condit.
Levy's disappearance nine years ago received widespread publicity because of her alleged relationship with the sitting California congressman.
The revelation contributed to the political downfall of Condit, who will be called to testify during the trial, according to Haines.
Police said Condit was never a suspect in the case, although he was questioned intensively as investigators tried to find Levy.
Haines blamed law enforcement authorities' initial focus on Condit for what she called "the derailment of this investigation for years."
Levy vanished at the end of her federal internship at the U.S. Bureau of Prisons. Her remains were found more than a year later by a man walking his dog in a wooded area of Rock Creek Park.
Authorities say Guandique is a member of the Salvadoran gang Mara Salvatrucha. Years after her death, he allegedly admitted to fellow inmates that he had killed Levy.
Hawilo plans to raise doubts about the credibility of Guandique's fellow inmates, describing them as "people with deals on their minds" for lenient treatment.
Defense attorneys have questioned the police investigation. Last week, they wondered about a second man named in an FBI fingerprint memo prosecutors had just disclosed to Guandique's counsel.
In that memo, both Guandique and the other man were cleared of any match in fingerprints lifted from a vehicle parked near the crime scene.
FOLLOW THIS TOPIC