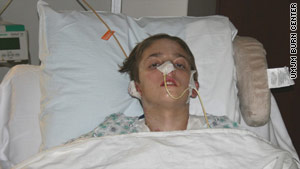 Michael Brewer says he is undergoing therapy to deal with the anger that followed the attack.
STORY HIGHLIGHTS
The three defendants have been charged as adults with attempted murder
The burned teen just celebrated his 16th birthday
He says he wishes he could deal with his former friends himself
Fort Lauderdale, Florida (CNN) -- Lawyers representing three teenagers suspected of setting another boy on fire rejected plea deals Friday.
For the first time in more than a year, Michael Brewer faced his three former friends, who, one by one, walked into court wearing orange jumpsuits and shackles.
The three teens are accused of pouring alcohol over Brewer and setting him on fire last year, after a dispute over a video game and $40. He suffered burns over 65 percent of his body and was hospitalized for more than two months.
It was unclear Friday whether the alleged attackers knew Brewer was in the courtroom. The teens did not exchange words.
Brewer, who celebrated his 16th birthday last week, told CNN's John Zarrella that he wished he could deal with his three former friends himself.
"But, it's over and done with. They're getting what they deserved," he said, adding that he is undergoing therapy to work through his anger over the attack.
The three teens -- Denver Jarvis and Mathew Bent, both now 16, and Jesus Mendez, now 17 -- have been charged as adults with second-degree attempted murder.
Jarvis and Bent could each face prison sentences between six and 30 years. Mendez could face up to 50 years in prison.
In court, prosecutors revealed that in exchange for guilty pleas, they had been willing to offer the defendants reduced sentences.
Maria Schneider, the state prosecutor told Judge Jeffrey Levenson that the state offered Jarvis and Bent 10 years in the Florida State Prison System and 10 years probation. Mendez was offered 15 years in prison, along with 10 years probation, she said. Mendez has admitted using the lighter that set Brewer ablaze.
His attorney told the court that prosecutors had originally offered her client 10 years in prison, not 15.
"We're not doing anything today, your honor," said Mendez's attorney, Melissa Zelniker-Presser.
Detectives say the attack on Brewer, in Deerfield Beach, Florida, started over a video game and a bicycle.
They say one of the boys, Bent, demanded $40 he said Brewer owed him, and when he didn't pay, Bent allegedly stole Brewer's father's bicycle. Brewer fingered Bent to police, who arrested the teen. The next day, after Bent was released, the gang found Brewer and allegedly surrounded him. Police say witnesses have told them his attackers called him a "snitch."
Detectives say eyewitnesses told them that then-15-year-old Jarvis poured alcohol over Brewer and then-16-year-old Mendez used a lighter to start the fire. Bent allegedly encouraged the attack.
Mendez has admitted setting Brewer on fire, and that he made a "bad decision," according to an arrest transcript.
Brewer ran about 100 yards to an apartment complex pool, where he dove in, to save himself.
He told CNN last week that he was prepared to see his former friends in court and would testify against them if the case does go to trial. For now, the three teens remain behind bars.
"I think they're just jerks and they got what they deserved," Brewer said.
FOLLOW THIS TOPIC