Two New Jersey killings investigated as possible bias crimes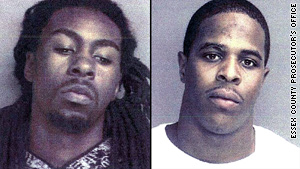 Alrashim N. Chambers, left, and Marquise L. Foster are being sought in connection with a killing.
STORY HIGHLIGHTS
Transgendered woman shot dead
Gay man bludgeoned to death
Official: "Their sexual orientation may have been a factor in their deaths"
One man in custody, 2 others sought
(CNN) -- One man has been arrested and two others have been identified as suspects in two separate killings in Maplewood, New Jersey, that may be bias crimes, police said Thursday.
"What the prosecutor said today is their sexual orientation may have been a factor in their deaths," said Katherine Carter, a spokeswoman for Acting Essex County Prosecutor Robert D. Laurino.
Police were searching for Marquise L. Foster, 25, of North Plainfield and Alrashim N. Chambers, 23, of Newark, he said in a written statement.
They are wanted for the murder of Victoria Carmen White, 28, also of Newark, who was fatally shot on September 12 at an apartment in Maplewood, the statement said. Maplewood is a half-hour's drive west of New York City.
Foster and Chambers met White at a nightclub in Irvington, then returned with her and two other people to the apartment "to continue partying," it said. "An altercation occurred and White was killed."
Foster, of North Plainfield, is about 5-feet, 6-inches tall and weighs 130 pounds; Chambers, of Newark, is 5-feet, 10-inches and approximately 165 pounds, Laurino said.
In the other case, authorities announced the arrest in Newark on Tuesday of John Staten, 30, of Orange. He is accused of the March 15, 2010, murder of 27-year-old Arthur Downey.
The two men met in a telephone chat room, Laurino said. Downey's female roommate found him beaten to death in bed in his Maplewood apartment, the prosecutor said. His 2007 Chevrolet TrailBlazer was missing.
"It's our understanding that he was openly gay," said Carter. "We have a special unit that looks at cases to determine whether there is a legal basis to bring bias-crime charges, and that unit within our office will be reviewing both of these cases."
Staten was taken to the Essex County Correctional Facility; his bail was set at $1 million.
Garden State Equality, a gay rights organization, announced a $2,000 reward for information leading to the arrests of either or both suspects in White's murder.
"Violence against the LGBT community across America and across our own New Jersey is an epidemic that must shock the conscience of everyone in our society," said Garden State Equality Chair Steven Goldstein. "And no community has suffered more violence than our transgender brothers and sisters. Authorities must find the suspects in the murder case of Victoria Carmen White."
FOLLOW THIS TOPIC