Airport security officer allegedly stole from passengers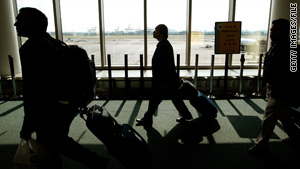 A supervisor at New Jersey's Newark Airport is accused of stealing from travelers' baggage during security searches.
STORY HIGHLIGHTS
Thefts took place at Newark Liberty International Airport
Non-English speaking travelers targeted
(CNN) -- An airport security supervisor at Newark Liberty International Airport in New Jersey was arrested Tuesday on suspicion of stealing from the baggage of travelers during security searches, the U.S. attorney's office in New Jersey announced.
Michael Arato, 41, of Ewing, New Jersey, was charged in a criminal complaint with one count of accepting bribes, one count of conspiring to commit theft, and three counts of theft by a government employee.
Arato is scheduled to appear Wednesday before U.S. Magistrate Judge Michael Shipp in Newark federal court, the U.S. attorney's office said in a statement.
According to the criminal complaint, Arato was the supervisory transportation security officer for the Transportation Security Administration at Terminal B of the Newark airport and worked with another officer there to steal from passengers.
The colleague, who was cooperating with federal authorities since September 13, 2010, would take several hundred dollars from the baggage of passengers each shift and give half of it to Arato, in exchange for Arato keeping quiet, the complaint alleged. It said Arato accepted $3,100 in such bribes between September 13 and October 5 of this year.
"In order to facilitate the theft and bribery scheme, the conspirators targeted predominately non-English speaking victims, including women of Indian descent and nationality who were returning to India after visiting the United States," complaint said.
FOLLOW THIS TOPIC