4 found guilty in NYC synagogue bomb plot case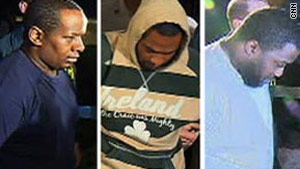 Defendants James Cromitie, David Williams, Onta Williams (pictured) and Laguerre Payen were arrested last year.
STORY HIGHLIGHTS
Prosecutor warns "homegrown terrorism" is a serious threat
The men are convicted of plotting to blow up a synagogue and a Jewish center
"There's no justice!" screams a relative of one of the accused after the verdict
New York (CNN) -- Four men were found guilty Monday of planning to bomb a synagogue and Jewish center in New York and plotting to shoot military planes with missiles.
James Cromitie, David Williams, Onta Williams and Laguerre Payen -- all from Newburgh, New York -- were charged with conspiring to blow up a synagogue and Jewish community center in the Riverdale section of Bronx, New York. They were also accused of planning to fire surface-to-air-missiles at the New York Air National Guard Base at Stewart Airport in Newburgh, New York.
The men, who could now face life in prison, were arrested last year after planting what they thought were live explosives. They had unknowingly been working with an FBI informant, who supplied them with what they were told was military-grade explosive material and a Stinger surface-to-air guided missile.
"Homegrown terrorism is a serious threat, and today's convictions affirm our commitment to do everything we can to protect against it," Preet Bharara, the U.S. attorney in Manhattan, said in a statement soon after the verdict.
"The defendants in this case agreed to plant bombs and use missiles they thought were very real weapons of terrorism. We are safer today as a result of these convictions," he added.
The jury spent some six weeks listening to testimony and undercover tapes made by the FBI informant who posed as a member of a Pakistani terror group. Jurors delivered their verdict after deliberating for eight days. They requested an escort out of the courthouse.
The four men were found guilty on seven of the eights counts against them, including conspiracy and attempts to use and acquire weapons of mass destruction and anti-aircraft missiles. Cromitie and Williams were also found guilty of attempting to kill officers and employees of the United States.
Each of the seven charges the men were found guilty on carry a maximum term of life in prison.
Members of the defense team had argued their clients were victims of entrapment.
Last week, the judge presiding over the case denied the defense's request for a mistrial. Defense attorneys argued that jurors could be swayed by evidence that was not permitted in the trial, but had mistakenly been put in one of the juror's packet of evidence.
That juror was dismissed -- and the case continued.
After the verdict, Mark Gombiner, an attorney for Onta Williams, said the defense would likely file a motion. It was not clear whether the planned motion would be an appeal.
Soon after the verdict was read, Alicia McWilliams, David Williams' aunt, was escorted out of the courtroom. She had begun screaming expletives and repeatedly yelling, "There's no justice!" The judge asked that she be removed.
FOLLOW THIS TOPIC