STORY HIGHLIGHTS
Terror expert: "If anything, [cartel leaders] are going to try to avoid situations like this"
Los Zetas may be using "ill-trained, reckless teenagers," "Drug War Zone" author says
Tiffany Hartley has told authorities Mexican pirates shot and killed her husband on lake
(CNN) -- The suspected shooting death of an American by gunmen linked to a Mexican drug cartel has brought unwanted attention to a cartel known as Los Zetas and may have resulted in a death sentence for the killers, security experts said.
"It's more likely than not that more senior people in the organization are unhappy about what happened here because this brings pressure from the United States and Mexican authorities," Robert Chesney, a terrorism and national security expert at the University of Texas School of Law in Austin, told CNN on Friday.
"Let's face it," he added, "none of these cartels have any strategic interest in bringing more attention to their operations. That cannot be good for them. If anything, they are going to try to avoid situations like this."
Howard Campbell, University of Texas at El Paso professor and author of "Drug War Zone," said the suspected killing is most likely the work of cartel-connected young thugs -- and a grievous mistake.
"There are reports that recently the Zetas have become a bit desperate and have been using ill-trained, reckless teenagers which can lead to mistakes of this kind," he told CNN in an e-mail Friday. "The leaders of Mexican drug cartels try to minimize attacks on Americans because they know this would bring pressure on their organizations."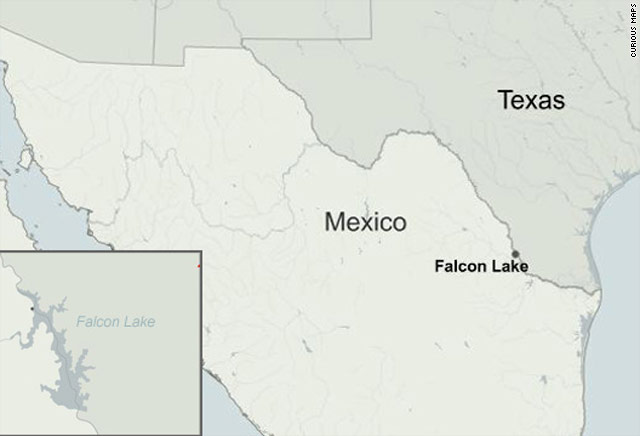 Missing American reportedly shot on lake

Video: Latest on Falcon Lake investigation
Tiffany Hartley, the wife of David Hartley, has told authorities that Mexican pirates shot and killed her husband September 30 on Falcon Lake, a popular fishing destination that straddles the U.S.-Mexico border.
In comments that aired Thursday on CNN's "American Morning," Hartley said that she met with Rolando Armando Flores Villegas, the lead Mexican investigator in her husband's case, days before the police officer was killed and his severed head delivered to authorities in a suitcase.
"I met him. He sat right next to me," Hartley said.
Zapata County, Texas, Sheriff Sigifredo Gonzalez, whose news conferences have drawn national attention to the case over the past two weeks, said Hartley's suspected killers may be already dead.
"In a case like this, I also understand that they do their own justice to their own people," he told CNN's "American Morning" on Thursday, referring to cartel members.
Gonzalez has said that Los Zetas are known to control the Mexican territory that encompasses part of the lake.
Fred Burton, vice president of counterterrorism and corporate security at Statfor, told CNN's Anderson Cooper that the media attention the killing has generated has been costly to the cartel.
"The warlord that controls this area, Miguel Treviño [a Los Zetas commander], he's going to find the killers and you'll never see them again," Burton said.
Stratfor, an Austin-based think tank that focuses on drug cartels, the border and security issues, issued a report Thursday that linked Hartley's presumed killing to Los Zetas. The report concluded that Hartley may have been killed because gunmen mistook him for a scout from the rival Gulf cartel.
"It's our understanding this was not a sanctioned killing, which raises concern within the organization because this kind of notoriety is bad for business. This is a disruption to their supply chain and they exist to make money," Burton said.
Los Zetas used to be the enforcement arm for the Gulf cartel, but they split off and formed their own cartel, experts said. The two groups are battling for turf on the Mexican side of Falcon Lake. Burton said Los Zetas are known for their brutality.
"They were actually hired by the Gulf cartel to be the enforcers, the bodyguards, the protectors of the Gulf," Burton said. "They broke off on their own. They're a standalone cartel now. They are extraordinarily violent."
Beheadings have become their calling card.
"Their signature is the chopping off of the heads," Burton said. "They have a tremendous reputation on the streets as being an organization that you don't mess with."
Chesney, the University of Texas law school professor, said that if a lower-level drug cartel member killed Hartley, it highlights problems that big criminal organizations face and offers ways these groups can be infiltrated. It also shows what happens in huge operations in general, he said.
"This might be a great example of the difficulties of controlling people down the line when you're operating a somewhat decentralized organization. In that sense this may be not unlike the challenges any big corporations face," Chesney said.
"How can you keep people in line? Those problems are by definition worse in a violent criminal organization, and Los Zetas surely qualifies as one."
FOLLOW THIS TOPIC