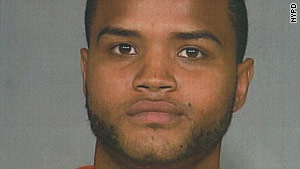 Ruddy Vargas-Perez was released on bail after a court hearing Thursday.
STORY HIGHLIGHTS
NEW: Police say 11th suspect hit a victim with a chain
Ten of the suspects appeared in court
One was released on bail
The other nine waived bail
New York (CNN) -- An 11th suspect was arrested in connection with a series of anti-gay beatings in New York, police said Friday.
The suspect, identified as Luis Garcia, 26, is accused of wrapping a chain around his fist and punching a 30-year-old victim twice, New York police said.
He faces similar charges as the other suspects, which include assault as a hate crime, police said.
One of the other 10 suspects was released on bail Thursday after a hearing in Bronx Criminal Court.
Ruddy Vargas-Perez faces 10 charges in the case, including four counts of robbery, second-degree gang assault, hate crime, harassment, unlawful imprisonment and criminal possession of a weapon. His bond was set at $25,000.

Video: Arrests made in alleged hate crime
Defense attorneys for the nine other suspects waived bail for their clients, all of whom appeared Thursday in court. Attorneys had been assigned to some of them just moments before.
The attorneys also reserved the right for their clients to testify before a grand jury.
Two court dates have been set after a grand jury considers indictments: Some will appear on October 21 and others on October 22.
Vargas-Perez was surrounded by friends and family after the court appearance.
Vargas-Perez's attorney, Benjamin Heinrich, said Tuesday after his client's arraignment, "He had nothing to do with any of that horrific conduct, and he was as mortified as we all are by what happened to that poor man."
Vargas-Perez's family also maintained his innocence in the October 3 attacks.
The case involved three victims being held against their will by several assailants who beat them in an unoccupied apartment and sodomized two of them, New York Police Commissioner Ray Kelly said last week.
A fourth victim was beaten and robbed in connection with the attacks, which New York Mayor Michael Bloomberg described as "torture."
The string of attacks began when members of a street gang calling themselves the Latin King Goonies learned that an aspiring member is gay, authorities said.
According to Kelly, the 17-year-old pledge was forced into the apartment around 3:30 a.m. Sunday and questioned about his contact with a 30-year-old man. He was thrown into a wall, forced to strip, hit in the head with a beer can, cut with a box cutter and sodomized with the wooden handle of a plunger, the commissioner said.
His assailants let him go, but threatened to hurt him or his family if he talked, Kelly said.
The victim went to a hospital for treatment, but said his injuries were from an attack by unknown assailants on the street, the commissioner said.
The same day, another 17-year-old was beaten and questioned about the same 30-year-old man, robbed of jewelry and held against his will in the same apartment, Kelly said.
About an hour after that, the 30-year-old man was lured to the location where the second 17-year-old was being held, was forced to strip and was tied to a chair opposite the teenager, Kelly said. The teenager was forced to hit the older male several times in the face and burn him with cigarettes, after which the suspects assaulted him with their fists and a chain and sodomized him with a small baseball bat, the commissioner said.
The 30-year-old man was later dumped outside his home, the commissioner added. Five of the suspects then went to the apartment the 30-year-old victim shared with his older brother and let themselves in using a key they'd taken from the man, Kelly said. There, they beat the man's brother and demanded money from him, Kelly said.
When the man refused, the assailants put a cell phone to his ear and he heard his younger brother say that he was being held against his will and to "give them the money," the commissioner said. The older brother told the suspects where they could find the money, after which they tied him up and left the apartment, Kelly added.
Ten of the suspects live in the Bronx, police said.
Pending charges include unlawful imprisonment, abduction, sodomy, assault, robbery, and menacing, all as hate crimes, the commissioner said.
CNN's Kiran Khalid contributed to this report.
FOLLOW THIS TOPIC