Trial for Guantanamo detainee delayed as plea-deal talks continue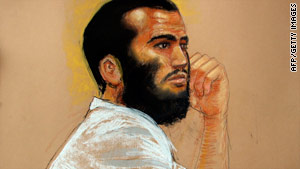 Omar Khadr, shown in a courtroom sketch from early August, was 15 when he was captured in Afghanistan in 2002.
STORY HIGHLIGHTS
The case was previously delayed because of lawyer's illness
The Canadian-born defendant was 15 when attack occurred
The military trial at Guantanamo is the first of the Obama administration
Washington (CNN) -- A military judge has delayed the resumption of the trial of Guantanamo detainee Omar Khadr as lawyers discuss a possible plea agreement that would end the first military commission conducted during the Obama administration.
The Canadian-born Khadr's trial was scheduled to resume Monday, but the judge postponed it for a week, a military spokeswoman announced Thursday without giving a reason.
"There are ongoing negotiations, and we hope there will be a deal," Nate Whitling, one of Khadr's Canadian lawyers, told CNN. Whitling would not discuss any of the terms being discussed or say when talks began on a possible plea deal.
Khadr, now 24, was 15 when he allegedly threw a grenade during a 2002 firefight in Afghanistan that resulted in the death of Army Sgt. First Class Christopher Speer. If convicted, Khadr faces a maximum life sentence.
The military commission began in August but was stopped in the first week due to the illness of Khadr's military lawyer.
Whitling would not discuss whether Khadr had rejected a previous plea deal, but suggested he is receptive to an agreement now.
"He is anxious to avoid a trial before that kangaroo court," Whitling said in reference to the U.S. military commission at the Guantanamo Bay, Cuba, detention facility.
Whitling said another civilian lawyer for Khadr, Dennis Edney, will travel to Guantanamo on Saturday for discussions with Khadr.
Whitling would not say when plea discussions began.
FOLLOW THIS TOPIC