STORY HIGHLIGHTS
Rebecca Garde was 20 when she says Gary Ridgway attacked her
Ridgway pleaded guilty to killing 48 women between the early 1980s and 2001
Like his other targeted victims, Garde then was involved in drugs and prostitution
Garde spoke to CNN as part of an investigation into serial killings
(CNN) -- Rebecca Garde had just gotten off work from her telemarketing job and was met by another drizzly and damp Seattle evening.
Usually, she took the bus home, but on that night in November 1982 she just couldn't handle waiting in the rain any longer. So she decided to hitchhike along Pacific Highway South, a decision that would change her life forever.
A maroon Dodge pickup happened by. The man driving it seemed unremarkable to Garde -- "boring" and "dull," she recalled.
But he offered her a ride. She offered a proposition: $20 in exchange for a sex act. For Garde, 20 at the time, it was an opportunity to escape the rain and a way to pay for some marijuana.
She had no way of knowing that the driver was Gary Ridgway, the Green River Killer, one of the country's most prolific serial killers. She didn't know the terror he had in store for her.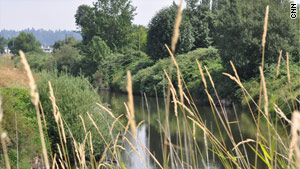 The first five victims that Gary Ridgway killed were dumped in Washington state's Green River.
Nearly 30 years later, Garde spoke about her escape as part of CNN's recent investigation into serial murders.
She didn't want to talk much about what she's doing today and said she is trying to put the past behind her.
Throughout his 20-year killing spree, Ridgway strangled dozens of women. While he pleaded guilty to killing 48 women between the early 1980s and 2001, Ridgway has told police about an additional 20 women.
Like many of his other victims, Garde used drugs and was involved in prostitution. But unlike the others, Garde is the only known survivor of Ridgway's attacks.
Prostitutes, Ridgway told court officials, were the easiest victims because he knew police had a difficult time tracking down women who were constantly changing their names and addresses.
The majority of Ridgway's victims were teenage girls who had left tough or abusive homes, turning to the streets where they supported drug habits through prostitution.
At the time, teenage prostitutes were not hard to find in the Seattle area, and some blame a state law known as the Juvenile Justice Reform Act of 1977.
Under the reforms, Washington state treated juvenile offenders like adults, and troubled young people quickly filled state-run boardinghouses and facilities. The system became overcrowded and under-funded.
Critics said the reforms inadvertently created an environment ripe for young women to slip through the cracks easily.

Video: Woman survives brutal attack

Video: Victim's mother speaks
But for Ridgway's victims, prostitution carried a higher price -- death by strangulation.
At the time of their brief initial encounter, Garde said she thought Ridgway seemed odd. At 5 feet 11 inches and 150 pounds, he wasn't very imposing, though she remembers that his hands were large and his eyes small.
Most of all, she said, "I remember the look in his eyes."
Garde asked to see his identification, and Ridgway pulled out his wallet and displayed an identification card for Kenworth Trucking Co., where he worked painting trucks.
Seeing the ID settled her nerves. At least she knew who he was, Garde told herself.
After she directed Ridgway to a nearby trailer park, he insisted that they leave the truck and go into the woods. Garde agreed.
Not long after they entered the woods, Ridgway attacked her.
"All of a sudden he starts grabbing me, and we're rolling all over the place," she recalled. "He tried covering my mouth and my nose, and I just kept trying to breathe. He smothered me on the ground. ... He was sitting on top of me."
With his shorts around his ankles, Ridgway tried to strangle her, like he strangled his other victims. Meanwhile, Garde's thoughts were racing.
"No, this is not my time. I want to grow up. I want to get married. I want to have babies," she recalled thinking. "I was like, 'This guy is not going to kill me. I don't belong here. I'm in the wrong place at the wrong time.' "
She pushed Ridgway against a tree, stunning him. She ran to a nearby mobile home.
All of a sudden he starts grabbing me, and we're rolling all over the place.
--Rebecca Garde, survivor
"I'm pounding and pounding and pounding on the door," she recalled. When someone came to the door, though, Garde could barely speak.
"Only three words came out: 'Please help me.' "
Because Garde was using drugs and engaged in prostitution, she says she chose not to go to the police right away. She waited until December 1984 -- more than two years after the attack -- to tell King County officials what had happened.
Even so, her story "contributed to the overall picture that was forming of [Ridgway] as a suspect," according to Thomas Jensen, the lead detective of the Green River Task Force.
Ridgway was arrested in 2001 and sentenced to life in prison two years later.
As the criminal proceedings began, it became clear that the details of Garde's attack were similar to those of the women he had succeeded in killing.
Ridgway picked up Garde in the same area where he had picked up around 15 of his victims -- along Pacific Highway South between South 188th Street and his house at 218th.
And just as Ridgway had done with Garde, Ridgway claimed to allay his victims' fears by showing them his ID. He killed his victims by strangling them in a chokehold from behind, as he attempted to do with Garde.
Only in her case, she escaped.
"I got lucky and I was able to get away and run for help."
FOLLOW THIS TOPIC