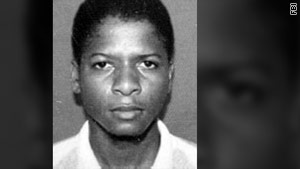 Ahmed Khalfan Ghailani is the first Guantanamo detainee to be tried in civilian court.
STORY HIGHLIGHTS
Judge strikes down motion for dismissal in trial of Ahmed Khalfan Ghailani
Prosecution has no evidence Ghailani was a member of al Qaeda, defense says
Defense: Accused Tanzania embassy bomber a dupe, not an accomplice
1998 attacks on U.S. embassies in Tanzania and Kenya killed 244 people
New York (CNN) -- No sooner had opening statements begun Tuesday than lawyers for a man accused in the 1998 bombing of a U.S. embassy in East Africa called for a mistrial.
Lawyers for accused terrorist Ahmed Khalfan Ghailani argued that the government had violated an agreement to refrain from calling Ghailani an al Qaeda operative. The motion was promptly struck down by U.S. District Court Judge Lewis Kaplan, propelling forward the precedent-setting case of the first Guantanamo detainee to be tried in civilian court.
In his opening statement, prosecutor Nicholas Lewin reconstructed the fateful morning in Dar es Salaam, Tanzania, when the U.S. Embassy, buzzing with activity, was attacked by a suicide bomber in an explosives-laden truck.
"At 10:39 that morning, that truck bomb explodes with vicious and lethal force," Lewin says. "By the time the smoke clears that morning, 11 people are dead."
Just 10 minutes prior to that bombing, prosecutors noted, a "virtually identical truck bomb" blew up at the U.S. Embassy in Nairobi, Kenya. The twin bombings killed 244 people.
Lewin said an al Qaeda cell, operating under the edict of Osama bin Laden to kill Americans anywhere in the world, was responsible for both of the bombings. "This man Ahmed Ghailani was a member of that cell." The government said the defendant purchased the truck used in the Tanzania bombing and then packed it with industrial-size gas tanks filled with oxygen and combustible gas to ensure a massive blast. "The defendant did all of this because he and his accomplices were committed to al Qaeda's overriding goal to kill Americans," Lewin told the jury.
As their first witness, the prosecution called former U.S. Ambassador John Lange, one of several survivors of the bombing expected to testify in the case.
Lange, a career diplomat who now works for the Bill and Melinda Gates Foundation, described the carnage he witnessed once he emerged from the building after the blast: "I saw this flat concrete area and there was a gentleman on there, his body charred and taking his last gasps of life."
Ghailani's attorney Steve Zissou began his opening statement with a simple declaration: "He is not simply presumed innocent. He is innocent."
Zissou described his client as "immature at the time -- trusting and na´ve."
Zissou described al Qaeda as an organization that frequently uses "dupes" to assist them in their operations and that Ghailani was exactly that.
"It would be convenient if the evidence was going to show, unlike what you just heard, that Ahmed was a member of al Qaeda," Zissou said noting that no such evidence exists. "Ahmed did not go to traning camps. He did not get indoctrinated. He did not become a member of Al Qaeda."
Instead, the defense said, Ghailani was known to play with children and watch cartoons.
The 1998 embassy attacks are among several crimes for which Ghailani has been indicted in New York. He was captured in Pakistan in 2004 and taken two years later to the detention center at Guantanamo Bay Naval Base in Cuba.
Ghailani's attorneys had previously argued that his entire indictment should be thrown out on the grounds that he was tortured by the Central Intelligence Agency, violating his rights under the due process clause of the U.S. Constitution.
Last week, a judge ruled that a witness in the trial could not testify because Ghailani told the CIA about the witness while agents were interrogating him, and the U.S. government had conceded that everything Ghailani said in CIA custody could be considered to have been coerced.
The trial has underscored tension between Congress and President Barack Obama over the planned closing of Guantanamo.
The transfer "sets a dangerous precedent for the more than 200 suspected terrorists currently held at Guantanamo Bay," said Judiciary Committee Ranking Member Lamar Smith, R-Texas, said last week in a written statement.
On Tuesday, the defense told jurors to brace for a trial that will take months, possibly heading into next year.
FOLLOW THIS TOPIC