Pennsylvania school district settles laptop privacy lawsuit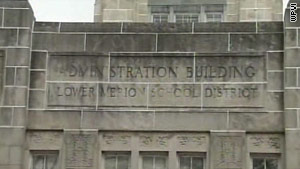 An assistant principal in the Lower Merion School District was accused of using a webcam to spy on a student.
STORY HIGHLIGHTS
Two of the cases involved students who were given laptop computers through the district
Students didn't know administrators could access laptops' webcams, take pictures
District's insurance carrier agreed to cover $1.2 million of costs associated with suits
FBI investigation against the district was dropped during the summer
(CNN) -- Several lawsuits involving privacy concerns in a laptop computer distribution program at a Philadelphia, Pennsylvania-area school district were settled late Monday.
Two of the cases involved students who were given laptop computers through the district; unknown to them was the ability for school administrators to take photographs and screenshots by remotely accessing the webcam on the laptop.
In February, on behalf of student Blake Robbins, parents Michael and Holly Robbins sued the school district, its board of directors, and the superintendent. They claimed that the district unlawfully used its ability to remotely access a webcam.
In a statement, the Lower Merion School District admitted that a substantial number of webcam photographs were recovered. The district would only remotely access a laptop if it was reported to be lost, stolen or missing, said Doug Young, spokesman for the Lower Merion School District.
The settlement on Monday included $175,000 placed in a trust for Blake Robbins; $10,000 for Jalil Hassan -- the second student who filed suit -- and $425,000 for their attorney, Mark Haltzman.
The district's insurance carrier, Graphic Arts Mutual Insurance Co., agreed to cover $1.2 million of the fees and costs associated with paying for the lawsuits.
Potential invasion of privacy violations that were being investigated by the FBI were cleared. The FBI, the U.S. Attorney's Office and the district attorney of Montgomery County, Pennsylvania, dropped charges in the summer, clearing the school district and its employees of any criminal wrongdoing, Young said.
All 2,300 students at the two high schools in the district had been offered laptops in order to "enhance opportunities for ongoing collaboration, and ensure that all students have 24/7 access to school based resources," according to a message on the district superintendent's website, which was quoted in the suit.
After the lawsuits, the district immediately removed the webcam security program, but it has continued the laptop distribution program, Young said. In a statement, David Ebby, president of the Board of Directors of the Lower Merion School District, said the school revised its policies and procedures, and put safeguards into place to ensure the privacy of the students, staff and school families.
Requests for further comment from Haltzman, as well as the district's lawyer, Henry E. Hockeimer, Jr., went unanswered. The Robbins family also did not immediately return phone calls from CNN.
FOLLOW THIS TOPIC