STORY HIGHLIGHTS
Michael Brewer celebrates his 16th birthday at a Florida retirement home
Residents befriended teen during his yearlong recovery from severe burns
Other boys allegedly set Brewer on fire in dispute involving $40 and bicycle
Three teens await trial on attempted second-degree murder charges
Wilton Manors, Florida (CNN) -- The birthday boy seemed a bit overwhelmed from the moment he walked in the door.
Michael Brewer came to his 16th birthday party at the Florida Senior Living community as its adopted grandson. He was shy, a little awkward, but, then again, not every birthday party comes with reporters and television cameras.
However, for the past year, Michael has not been an average teen.
Michael was set on fire a year ago Tuesday following a dispute with three teenage friends over a DVD, $40 and a bicycle.
His arms and neck carry scars, and Michael said he's undergoing therapy because he's still bitter and angry.
"Yeah, I am a little bit," he acknowledged. "But I'm taking therapy to get rid of the anger and stuff."
He was burned over 65 percent of his body and spent more than two months at the University of Miami's J.M. Burn Center at Jackson Memorial Hospital.
"All I remember is having nightmares," Michael said.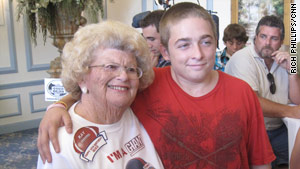 Michael Brewer shows his appreciation for Kay Manne, a senior citizen who befriended him during his recovery.
As Michael entered the senior center, called Independence Hall, residents serenaded him with "The Golden Girls" theme song: "Thank You for Being a Friend."
Michael had passed the time watching "The Golden Girls" reruns during his lengthy hospital stay.
"A lot of our prayers and thoughts have been with him," said resident Kay Manne, who has spent time talking with Michael.
"He's grown. I said, 'Mikey, you're taller than I am,' " she laughed.
Michael, a Giants fan, was treated to a football field-shaped birthday cake and an autographed picture from Giants quarterback Eli Manning.
Aside from the occasional celebrity visit -- Ozzy Osbourne spent a couple of hours with Michael one day -- he's trying hard to be a regular 16-year-old.
He's no longer in physical therapy, and he's no longer taking medication. He said he wants to go to college and hopes to be an FBI agent.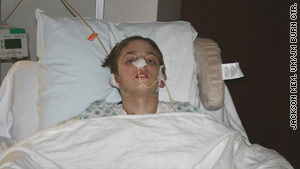 Michael was burned over 65 percent of his body after other teens allegedly set him on fire.
His father said he's trying to keep the lines of communication open with his son.
"I tell him, 'Mike, anything ever bothers you, I'm always here. Talk to me, talk to your mother, talk to your grandmother,' " Michael Brewer Sr. said.
"He's got a lot of good friends now that he hangs around with," he added.
The three former friends who are accused of setting him on fire remain jailed. No trial date has been set.
Michael told CNN he'd like to deal with them himself.
"Yes, I would," he said.
"But it's over and done with. They're getting what they deserved," he said.
The three teens, Denver Jarvis, Mathew Bent, both 15, and Jesus Mendez, 16, have been charged as adults with attempted second-degree murder.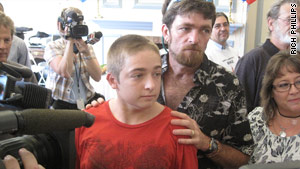 Cameras surround the teen, with his dad, Michael Sr., as he enters his birthday party at a Florida senior citizens center.
CNN tried to reach their defense attorneys, seeking a response to Michael's statements. Valerie Small Williams, the attorney representing Jarvis, said, "I have no reaction. I have no comment."
Attorneys for the other two defendants did not return CNN's calls.
Sheriff's detectives said the attack on Michael started over a video game and a bicycle. They gave the following account: One of the boys, Bent, demanded $40 he said Michael owed him; when Michael didn't pay him, police said, Bent allegedly stole a bicycle belonging to Michael's father.
Michael fingered Bent to police, who arrested the teen. The next day, after Bent was released, the three teens found Michael and allegedly surrounded him. Police said witnesses told them his attackers called Michael a "snitch."
Detectives said witnesses told them Mendez used a lighter to set Michael on fire after Jarvis poured alcohol over him. Bent allegedly encouraged the attack.
Mendez later admitted his role to investigators, acknowledging that he made a "bad decision," according to an arrest transcript.
I'm taking therapy to get rid of the anger and stuff.
--Michael Brewer, burned teen
Witnesses told firefighters that Michael ran about 100 yards to an apartment complex pool, where he dove in, to save himself.
"I think the pool helped a lot," said paramedic Bobby Goss of Deerfield Beach Fire Rescue, who was one of the first on the scene.
"Running to the pool, it probably kept the flames away from his airway and face, and it put the fire out very quickly," he said.
Michael told CNN's John Zarrella that he's prepared to see the teens again -- in court. He said he's willing to testify.
"I think they're just jerks, and they got what they deserved," he said.
FOLLOW THIS TOPIC