Police: Stranger abduction 'less likely' in N.C. missing girl case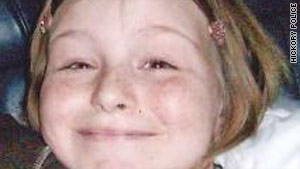 Zahra Clare Baker, 10, of Hickory, North Carolina, was reported missing on Saturday.
STORY HIGHLIGHTS
NEW: Police say a small fire was reported at the missing girl's house
Girl's stepmother is arrested on unrelated charges
Police are "deeply concerned" for the missing girl's welfare
(CNN) -- Authorities said Sunday that "a stranger abduction is less likely than once anticipated" in the case of a missing 10-year-old North Carolina girl.
Zahra Clare Baker was reported to have last been seen sleeping in her bedroom about 2:30 a.m. Saturday. She was reported missing from her Hickory, North Carolina, home about 2 p.m. Saturday by her father, Adam Baker, and stepmother, Elisa Baker.
"Although nothing is being ruled out at this point, there have been details that have surfaced in the past 12 hours indicating that a stranger abduction is less likely than once anticipated," Hickory police said in a statement Sunday.
An Amber Alert was issued for Zahra on Saturday and will remain in effect until the girl is located, police said. "We are deeply concerned for the welfare of Zahra but remain hopeful that we will locate her safe and unharmed," the statement said.
The Bakers were interviewed early in the investigation, and investigators are following leads to corroborate statements the two made to authorities, police said.
Elisa Baker was arrested Sunday morning "on outstanding charges not related to this case," the statement said. "Inconsistencies developed over the course of this investigation have not eliminated her as a person of interest."
Zahra is described as being about 5 feet 1 inch tall and weighing 85 pounds. She has a prosthetic left leg, and also is hearing impaired, requiring hearing aids that she does not have with her, police said.
Hickory Police Chief Tom Adkins told reporters he believes it is very unlikely the girl would have left the house on her own accord. He also said there was a small fire reported at the residence the morning Zahra is thought to have vanished. It was unclear what connection, if any, the fire might have to the girl's disappearance.
The FBI is assisting Hickory police in the investigation, officials said. Members of the public who have information were asked to contact the Hickory Police Department.
FOLLOW THIS TOPIC