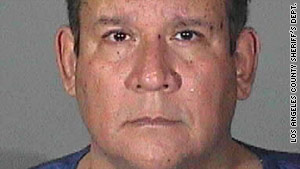 "I believe this is in the best interests of the residents of Bell," Luis Artiga said of his resignation Monday.
STORY HIGHLIGHTS
Four current council members are facing criminal charges related to corruption allegations
One of the four, Luis Artiga, resigned his council post Monday
Report: Council meeting canceled after only one member shows up
Eight current and former city officials were arrested last month
Read more about the case from CNN affiliate KTLA.
(CNN) -- The future of the beleaguered Bell, California, City Council is unclear.
Four council members, among them Mayor Oscar Hernandez, are facing criminal charges in what the Los Angeles County district attorney has called "corruption on steroids."
One of the four, Luis Artiga, resigned his council post Monday, saying, "I believe this is in the best interests of the residents of Bell -- the great residents of Bell -- my family and the church because of the ongoing criminal case."
After Artiga's resignation, a scheduled council meeting was canceled for lack of a quorum after only one member -- Lorenzo Velez, who is not facing charges -- showed up, CNN affiliate KTLA reported. Hernandez and Councilwoman Teresa Jacobo called in sick, the station said, and the fourth council member -- George Mirabal -- remains in jail.
Some of the people on hand cheered Velez as he took a seat, according to KTLA. But "due to a lack of a quorum, we won't be able to have our regular meeting," he said.
However, public comment at the meeting was allowed to proceed, KTLA said. About 200 Bell residents were present, it said. Many of those who spoke were angry, and during the comment session, which stretched to more than two hours, some blamed interim City Manager Pedro Carrillo for not moving fast enough to restore the city, according to KTLA. Velez told the commenters that, as the only council member present, he could take no action.
A call to Bell city officials from CNN was not immediately returned Tuesday.
Hernandez, Jacobo, Artiga, Mirabal, former City Manager Robert Rizzo, former Assistant City Manager Angela Spaccia and former council members George Cole and Victor Bello were arrested last month and face charges that include misappropriation of funds, conflict of interest and making or receiving illegal loans. Prosecutors allege they misappropriated more than $5.5 million, were paid for phantom council meetings and deliberately misled citizens about how much they were paid.
"They used the tax dollars collected from the hard-working citizens of Bell as their own piggy bank, which they looted at will," Los Angeles County District Attorney Steve Cooley said at the time.
High salaries paid to officials of the city sparked local outrage and national attention when they came to light in July. Rizzo, Spaccia and Police Chief Randy Adams resigned after media reports they were making several hundred thousand dollars a year each. Adams was not charged.
California Attorney General Edmund G. Brown recently sued several of the former officials to recover the "excess salaries."
Rizzo's last annual salary was more than $787,000, according to Brown's office. Adams earned $457,000 and Spaccia received $336,000. Before recently cutting their pay, Bell City Council members received $96,000 yearly, compared with $4,800 yearly for council members in similarly sized cities, Brown said.
Bell, a town of about 36,000 in southeastern Los Angeles County, has a median household income of less than $35,000, according to census figures.
FOLLOW THIS TOPIC