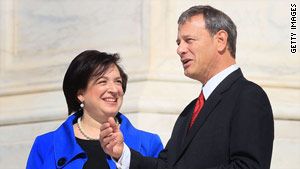 Justice Elena Kagan, here with Chief Justice John Roberts, served her first day on the Supreme Court on Monday.
STORY HIGHLIGHTS
New justice has her first day on the Supreme Court
Kagan is recusing herself from 25 cases
Her role as solicitor general is behind the recusals
Washington (CNN) -- Justice Elena Kagan made the most of her first day on the Supreme Court bench before reluctantly vanishing behind the burgundy curtains -- leaving behind her bench-mates.
The high court opened its new term Monday hearing oral arguments in two relatively low-profile appeals, but Kagan sat out the second case. It is one of 25 petitions from which the 50-year-old justice has so far recused herself.
Because of her recent service as the Obama administration's solicitor general, Kagan has decided to avoid any conflict of interest by withdrawing from cases the Obama administration had been involved in briefing. This means she will not sit on the bench during arguments or vote on the outcome of cases. The solicitor general works in the Justice Department as the government's chief advocate before the high court.
The 112th justice was serious and engaged in her first oral argument, despite having no past judicial experience. She was among the busiest of justices at the one-hour give-and-take between the court and the three lawyers appearing before them. Kagan asked eight questions of both sides, but was polite and non-confrontational in her approach.
A bankruptcy case involved whether a debtor can deduct automobile "ownership costs" from his payment plan, when he owned the vehicle free and clear -- meaning he owed nothing to creditors from a loan or lease that would normally be deductible.
"Even you would say, if you don't own a car at all, you can't claim the car costs," Kagan offered as a hypothetical to the lawyer for the debtor who sought the car deduction.
Kagan made her first public appearance as justice last Friday at her investiture, where she was formally introduced to the court. There she wore a decorative white scarf around her judicial robes. The scarf was missing Monday.
She sat forward in her seat during the first argument, looking very involved in the proceedings. She carefully picked her spots to speak, and several times pulled back her planned comments, letting her more senior colleagues have their say.
There are no formal rules on who gets to speak first and for how long at the high court arguments. Generally, the justices develop an informal rhythm over time, relying on subtle cues about when to jump in.
Sen. Patrick Leahy, D-Vermont, has proposed allowing retired justices to sit in on high court cases when a current justice has withdrawn. That would avoid a 4-4 tie, preventing the high court from establishing a precedent to guide similar cases in the future. When ties occur, the lower court ruling prevails.
"Retired justices may be designated to sit on any court in the land except the one to which they were confirmed," Leahy said. "The bill I am introducing today will ensure that the Supreme Court can continue to serve its essential function. In recent history, justices have refused to recuse themselves and one of their justifications has been that the Supreme Court is unlike lower courts because no other judge can serve in their place when justices recuse."
There are no clear standards on when justices should recuse themselves for perceived or real conflicts of interest. Sen. Orrin Hatch, R-Utah, who sits on the Senate Judiciary Committee chaired by Leahy, has expressed some concern about Leahy's proposal, such as who would decide which retired justice would sit in on which cases.
Three justices -- John Paul Stevens, David Souter, and Sandra Day O'Connor -- have retired from the high court in the past five years. Some conservatives have worried that if the court adopts the policy proposed by Leahy, the relatively liberal Stevens or Souter could conceivably replace a recused conservative such as Justice Antonin Scalia or Clarence Thomas on a hot-button case, possibly tilting the outcome.
Neither Kagan nor her eight fellow justices have offered their thoughts on the issue. The newest justice had enough to deal with on her first day, but just as soon as she settled into the routine, the oral argument at hand was over and she quietly left the bench -- heading back to her chambers while her colleagues soldiered on during the second, separate case.
Kagan's first on the court was Ransom v. FIA Card Services NA (09-907).