Alleged Fort Hood shooter's lawyer aims to save client from execution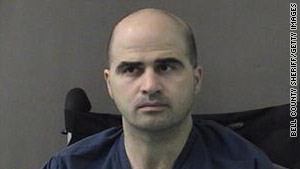 U.S. Army Maj. Nidal Hasan is suspected of killing 13 people in a November 2009 shooting spree at Fort Hood, Texas.
STORY HIGHLIGHTS
Attorney for Maj. Nidal Hasan expects the Army to seek the death penalty
Hasan faces an Article 32 hearing next week
He is charged with 13 counts of murder in the 2009 shootings
Washington (CNN) -- While no formal decision to seek the death penalty has been made by the U.S. Army, the civilian attorney representing the soldier accused of killing 13 people in a shooting spree at Fort Hood is focusing much of his energy on saving Maj. Nidal Hasan from execution.
John Galligan, a longtime military lawyer and now a civilian defense attorney representing accused troops, says he has already attended three legal seminars on the death penalty and will participate in another one soon.
He says he will try to "get death off the table either before court-martial, or more likely after any conviction."
First, Hasan has to get through an Article 32 hearing scheduled for October 12. The hearing is a military legal process similar to a civilian grand jury where evidence is presented to show that a trial should be held.

Video: Surviving Afghanistan, Fort Hood
But there are differences between Article 32 hearings and grand jury proceedings. In the military, defense attorneys and the accused are in the hearing and can present evidence or call witnesses to support their case and undercut the prosecution. Article 32 hearings are also usually open to the public.
Out of concern about pre-trial publicity, Galligan requested to have the Article 32 hearing closed to the media and the public, arguing that some of the testimony in the hearing may be ruled inadmissible at trial. His motion was rejected.
In Hasan's case, as many as 100 witnesses could be called and it could take more than a month to wrap up. Only after it is over will the Army make a formal decision on whether Hasan should face court-martial. If that decision is made, the Army then must decide whether to seek the death penalty.
Galligan has no doubt that will be what the Army decides.
He hopes to offset what he calls the Army's "railroading" of his client by asking for a change of venue for the case.
"You're damn right I will," Galligan said Monday. But he admits it will be "almost impossible to get."
Hasan has been charged with 13 counts of murder in the November 2009 shootings at the Army base in central Texas. He has been paralyzed from the middle of his chest down since the shootings and is being incarcerated at the Bell County, Texas, jail about 15 miles from Fort Hood. The Army has spent about $400,000 to have the local jail keep Hasan.
FOLLOW THIS TOPIC