STORY HIGHLIGHTS
Harland Braun represented Robert Blake, Rebecca Gayheart and Lane Garrison
His first Hollywood trial was the "Twilight Zone" movie manslaughter case
His clients were acquitted
Braun is considered a master spin doctor, but he keeps a low profile
Los Angeles, California (CNN) -- Harland Braun defends plenty of celebrities, but he often doesn't know what made them famous.
He is considered a master of the legal spin game, but he won't perform as a talking head on television. He never walks the red carpet, but he knows as well as anyone how Hollywood works.
It was a lesson learned long ago, while defending director John Landis and producer George Folsey Jr. at the "Twilight Zone" manslaughter trial. Vic Morrow and two child actors were killed in 1982 when a helicopter crashed during filming of the movie. A jury acquitted the filmmakers, finding the deaths accidental and holding no one criminally responsible.
"If the helicopter had turned the other way, the defendants would have been the people killed," Braun said.
The case, he said, taught him how quickly people in Hollywood can turn on each another. He called the trial "a tour through a sewer in a glass-bottom boat."
"All the rules that apply to normal society don't apply in Hollywood," Braun said. "If you're in the business, you have to adapt to this Neverland world and its high school atmosphere."
Follow CNN.com's Lawyers to the Stars series
Having a celebrity for a client changes how Braun, 68, handles a case.
"Normally, you have a constellation of people surrounding them -- their civil lawyer, their manager, their agent, their accountant, their spouse. There can be a production company, a publicist. So all these people want to be a part of the mix, and the celebrity is listening to them. You've got to watch it because they're all maneuvering for position," he explained.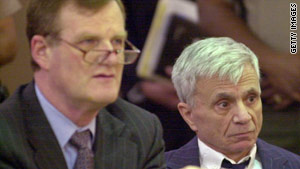 Attorney Harland Braun is shown in court with former client Robert Blake.
"It's so much easier to go into court with a regular person," he said. And he has, representing cops in the high-profile Rodney King beating case and Rampart police corruption trials, during which he called a female prosecutor "pond scum."
"I think he is a tremendous lawyer -- smart, capable, successful and with a keen sense of humor," said Laurie Levenson, a professor at Loyola law school. "He has won some amazing cases. He really knows how to push prosecutors' buttons. Frankly, if I were indicted, I would probably have him on my speed dial.
Braun usually negotiates plea bargains. His strategy is to minimize the damage and quickly get his clients back to work. Client Rebecca Gayheart pleaded no contest to vehicular manslaughter after she struck and killed a 9-year-old boy who ran into the street in 2001.
He also represented "Prison Break" star Lane Garrison, who pleaded guilty to vehicular manslaughter and drunken driving in connection with a 2006 crash that killed a Beverly Hills High School student who was a passenger in his Land Rover. Garrison was released from prison in April 2009.
"He's out and he's working," Braun said. "I think he did it with dignity. He apologized. He never denied it."
Like most Los Angeles natives, Braun thinks it's uncool to fawn over the famous. But a client's fame almost always affects the people handling the case. "You have normal judges and prosecutors and police officers acting differently because they're part of a celebrity case," he said.
He cites an example, telling a story about the late Chris Farley:
Entertainment lawyer Martin Singer referred the comic actor to Braun. "Marty had to tell me who he was," Braun recalled.
It's so much easier to go into court with a regular person.
--Harland Braun, attorney
He accompanied Farley, who was a witness in a case, to a police station in the San Fernando Valley. "We walk in, and the guy at the desk says, 'Freeze!' and I'm thinking, 'Holy s---' and I freeze," Braun recalled. "The door opens behind the desk cop, and about 30 other cops come out with cameras and start taking pictures."
About half of Braun's legal work for his celebrity clients stays under the radar. He advises clients not to be offended if he doesn't acknowledge them in restaurants. If he does, Braun says, it can undo his efforts to keep a case quiet.
And he isn't afraid to deliver bad news or say no.
"I can be blunt if I see someone who's got drug problems or emotional problems or ego problems."
He said he told Farley: "You remind me of John Belushi and John Candy, and they're both dead." Farley died in 1997, at the age of 33.
Braun is perhaps best remembered -- and least liked -- for his role in a case involving Robert Blake, who starred in the 1970s TV series "Baretta."
Braun was on the scene at Blake's Studio City home within hours of the fatal shooting of Blake's wife Bonny Lee Bakley, after the couple dined at a neighborhood restaurant. Braun devised a media campaign that some criticized as "victim bashing." He portrayed Bakley, as a celebrity stalker and a scammer who preyed on lonely hearts.
"It had to be done," Braun said. "I had so much information that had to get out."
He collected boxes of Bakley's tabloid articles and correspondence from Blake's house and, as the cameras rolled, gleefully delivered them in his vintage black Mercedes to the Los Angeles Police Department's Parker Center.
Police were ignoring vital evidence and a host of potential suspects with strong motives for murder, he told reporters. Later, as Blake faced arrest, he spoke of a mysterious stranger he called "Buzz Cut."
Braun quit the case when Blake, charged with murder, "went behind my back," he said, and granted Diane Sawyer a jailhouse interview. Two other lawyers, Tom Mesereau and Gerald Schwartzbach, eventually took over. A jury acquitted Blake in 2005, but like O.J. Simpson, he lost a wrongful death lawsuit filed by his late wife's relatives.
Personal: Braun's father was close friends with actor Don Ameche, who Braun says taught him the fleeting nature of fame. He has been married for 43 years. His daughter is a doctor; his son is a former federal prosecutor who now practices law in Los Angeles.
Clients: Besides Blake, Gayheart, Garrison and Farley, he has represented Roseanne Barr, Dennis Rodman and a host of others he won't talk about.
Quote: "What's the difference between Washington and Hollywood? They're both superficial, but at least in Hollywood, there's talent."
FOLLOW THIS TOPIC