STORY HIGHLIGHTS
Ahmad Rivazfar completed a cross-country bike ride on the anniversary of his daughter's murder
He rode with Ed Smart, whose daughter, Elizabeth, was kidnapped
The fathers are trying to raise awareness of ways to prevent crimes against children
They are members of a group called The Surviving Parents Coalition
Editor's note: Tune in Thursday and Friday for a special HLN report on child abductions and how parents are making a change in the system. Watch "Every Parent's Nightmare," an "Issues With Jane Velez-Mitchell" special, at 7 p.m. ET Thursday and Friday on HLN.
Los Angeles, California (HLN) -- Some real action heroes rolled into Hollywood a week ago under the sparkling California sun. They'd pedaled across the country from Rochester, New York, but their journeys in life had brought them much farther -- from the darkest corners of fear and pain to the bright light of survival and good works.
Ahmad Rivazfar rode his bike across a finish line near Sunset Boulevard. A soft-spoken family man from upstate New York, he completed his cross-country bicycle tour on the 22nd anniversary of his daughter's murder. Right down to the date.
On September 22, 1988, his ex-wife's boyfriend abducted and raped his two young daughters, Sara, 6, and Sayeh, 8. Ray Wike also slit both girls' throats. Sara bled to death and Sayeh was discovered staggering down a country road holding her hand across her bloodied neck.
Rivazfar and real estate executive Ed Smart, whose daughter, Elizabeth, spent nine months with an alleged abductor, pedaled their bikes together. Truck driver Mark Lunsford rode his motorcycle. His 9-year-old daughter, Jessica, was kidnapped by a convicted sex offender who raped her and buried her alive.
They rode from August 21 until September 22. As they crossed the finish line, other parents of murdered or abducted children chanted these words: "Not one more child. Not here! Not anywhere!"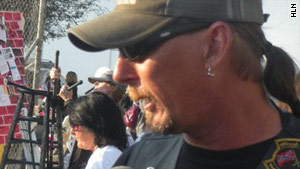 Mark Lunsford's daughter, Jessica, was abudcted and buried alive by a sex offender.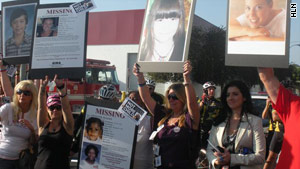 Diena Thompson, in dark shirt, holds up a poster of her slain daughter, Somer. A man awaits trial for murder.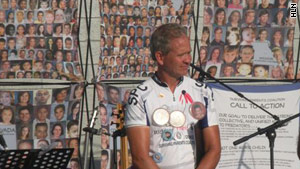 Ed Smart, whose daughter was kidnapped, addresses the crowd. Behind him are photos of victimized children.
Rivazfar, Smart and Lunsford: The three men share an encounter with pure evil. But, they've also bonded over their shared determination to transcend anger and hate and turn their suffering into something positive. That's why they formed the Surviving Parents Coalition.
They were greeted at the end of their coast-to-coast journey by another coalition leader. Erin Runnion rallied about 50 family members of murdered and missing children, parents who held up posters displaying the faces of their lost loved ones as they cheered the well-traveled trio.
Runnion's 5-year-old daughter, Samantha, was abducted from her yard, raped and murdered. Runnion said the only reprieve she gets from her anguish comes from working to thwart violent pedophiles and teaching kids how to protect themselves.
These devastated families have a life-saving agenda. They want police officers to get DNA samples from anyone arrested for a violent felony. They want to see the Adam Walsh Act, which was passed in 2006, get the money it needs to establish an effective national sex offender registry. They want the government to focus more on child exploitation cases. They also want our nation's school system to teach kids how to protect themselves as part of the regular curriculum.
These activist parents say people should consider one fact: If kids are taught to run in the opposite direction when approached by a stranger, that action alone increases the child's survivability rate by 50 percent. They have other useful facts and tips that they've been shouting from the rooftops.
The day after the Surviving Parents Coalition rally Rivazfar, Smart, Lunsford and Runnion met with the newest member of the club no parent wants to join.
Diena Thompson wept as she recalled getting a call at work in 2009 saying her 7-year-old daughter Somer had disappeared while walking home from school. The child's body was soon discovered and police learned she had been sexually assaulted, asphyxiated and tossed in a trash bin, allegedly by a neighbor who also is facing an array of child porn charges. He has pleaded not guilty.
Thompson said she often wakes up and, for a brief moment, thinks her daughter is still alive. A second later reality hits and she remembers the catastrophe that has descended on her.
Thompson's wounds are still fresh. The man police say killed her daughter is awaiting trial and she senses her ordeal is just beginning. But she also knows she is not alone.
The Surviving Parents Coalition works as a support group. Each parent lets the others know they are not alone.
These devastated mothers and fathers sat in a circle and listened as each told their tragic story. Their eyes locked as they shared experiences that are unimaginable for most people but which have become their unalterable reality.
The parents of murdered children cannot bring their kids back. But they can give each other strength and hope. Together they believe they can also make the world a safer place for children who are blissfully unaware of how depraved some people can be.
Rivazfar, Smart, Lunsford, Runnion and Thompson are five of the most inspiring human beings you'll ever meet.
For more information on the Surviving Parents Coalition or "Ride for Their Lives," visit http://www.spcoalition.org/.
Watch ISSUES with Jane Velez-Mitchell Monday through Sunday at 7pm ET on HLN. For the latest from ISSUES click here.
FOLLOW THIS TOPIC