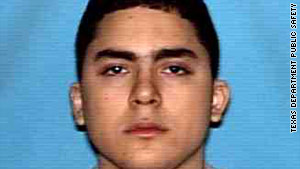 Colton Tooley was ranked seventh in his high school graduating class in 2009.
STORY HIGHLIGHTS
Friends and family of Colton Tooley struggled to find answers
Tooley, 19, was a sophomore math major
He was a bright student in high school, principal says
Tooley killed himself inside a campus library
Read more coverage from KXAN.
(CNN) -- By some accounts, University of Texas sophomore Colton Tooley was brilliant in mind and respectful always in his behavior to others.
His friends and family in Austin struggled Wednesday to come to terms with the tragedy that befell the teenager they knew after police identified him as the student who brandished an AK-47 assault rifle through campus and then turned the gun on himself.
No one else was injured in Tuesday's shooting incident. Police still do not know what Tooley's motives were.
His teachers at Crockett High School recalled Tooley, 19, as a bright, meticulous student who excelled in every subject, according to a statement from Craig Shapiro, principal of a school now dealing with the tragic deaths of two of its students. Another student, James Hinojosa, was killed in a train accident last week.
Shapiro said the Crockett High School community was shocked and saddened by Tuesday's tragedy.
"Our hearts go out to the family and friends of Colton Tooley," he said.
Colton graduated from Crockett in 2009. He was ranked seventh in his class.
"It doesn't make sense at all," said David Sepeda, Tooley's high school friend.
Sepeda told CNN affiliate KXAN that Tooley was shy but friendly.
"In high school, he was always nice. He was quiet, but he wasn't like threatening or malicious or creepy-looking," Sepeda said. "He would just walk around and mind his own business."
According to the university, Tooley began firing the AK-47 near the Littlefield Fountain about 8:10 a.m. Officers from the University of Texas Police Department and the Austin Police Department pursued Tooley, who went into the Perry-Castaneda Library.

Video: University shooter turns gun on self
He killed himself inside the library, police said.
If Tooley was depressed, no one knew about it, Tooley's cousin said in a statement on behalf of the family. Maybe because Tooley was not one to express his emotions. He lived quietly in a cul-de-sac home with his veterinarian father and a mother who ran a day-care center from home, KXAN said.
"There was nothing prior to this day, nothing that would lead any of us to believe that this could take place -- no signs at all, whatsoever," said Tooley's cousin, Marcus, who declined to give his last name.
"As you can imagine, my aunt and uncle are totally distraught," Marcus said. "They have just lost their child with no warning and no telltale sign."
Some who knew Tooley wondered why he chose to take his life in such a public way. Others suggested that he craved a moment of recognition.
"I think if he really wanted to do damage, he would have," neighbor Rodney Pratt told KXAN. "I just think he wanted some notoriety."
Police searched Tooley' s home for clues, KXAN said.
Authorities had said they were searching for a possible second suspect, but Robert Dahlstrom, chief of staff in the Austin Police Department, said later Tuesday that they now believe Tooley acted alone.
His actions resulted in a lockdown of the campus Tuesday morning. Panicked students were warned to remain indoors with their doors locked.
An ambulance was seen just before 9 a.m. in front of the Perry-Castaneda library. SWAT teams, armored vehicles and helicopters surrounded the campus.
The library, where Tooley died, is about two blocks from the university clock tower, blemished by carnage before.
More than three decades ago, student Charles Whitman went on a shooting spree, killing his wife, his mother and 14 other people. His actions were blamed on narcotics abuse coupled with health, family and legal problems.
Those who knew Tooley are hoping for some form of closure, their thoughts perhaps expressed by university President Bill Powers.
"I extend my sympathy to the family, friends, and classmates of the young student who took his life," Powers said, thanking police for their response to the emergency. "In the days ahead we will attempt to understand his actions and to learn from this tragedy."
FOLLOW THIS TOPIC